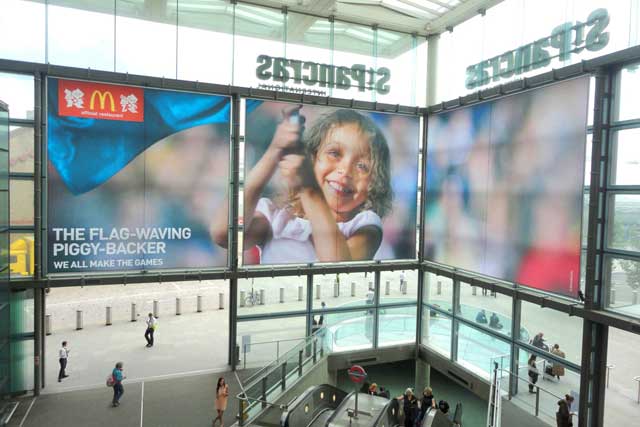 Who'd be an economic forecaster? Take, for example, our economic cheerleader-in-chief, David Cameron. Last week, he was telling all those who were prepared to listen that austerity was likely to last until 2020 and there was nothing very much anyone could do about it.
This was the same man who declared at the start of the month that, although it's costing £9.3 billion of taxpayers' money to stage, London 2012 would boost Britain's economy by more than £13 billion (over the next four years). The challenge, he added, was to "turn these Games into gold". Geddit?
Earlier this year, this challenge might have seemed something of an open goal - and the Games were surely going to be a rather lucrative proposition for the advertising market in particular.
Outdoor was particularly well-placed - the medium expected that its Games-related sites would be snapped up by official sponsors, pushing perennial outdoor advertisers on to less-demanded sites.
Where commercial TV was concerned, the BBC's monopoly on coverage was always likely to dent impacts; but still, clever planners would surely take full advantage of the Olympics-free TV haven that commercial channels offer - and, of course, Channel 4 was gearing itself up for its exclusive rights to the Paralympics. Newspapers could expect not only a boom in readership but a windfall of ad revenues too.
Alas, little of the above looks like panning out - and some buyers have been speculating that newspapers in particular have been suffering terribly. It is believed that some newspaper groups have budgeted for year-on-year ad revenue upswings of almost 20 per cent this summer - but the market has been dead level, at a time when many titles have committed to very costly daily Olympic supplements.
The fight for premium "vicinity" outdoor inventory among Olympic sponsors fell below expectations to the point that the rules were changed at the start of 2012 to allow non-sponsors to buy up the unsold sites. TV revenue prospects don't look great either, with talk of the TV market being down by up to 7 per cent for the third quarter.
And therein, some critics say, lies the heart of the problem. It's not just an outdoor thing: perhaps the advertising market generally has been deluding itself about Olympic prospects - not merely media owners, but media agencies too. The reality gap, some say, is making the whole proposition rather more painful than it might have been.
Absolutely not, Mungo Knott, the marketing and insight director at Primesight, argues. The company has less frontline Olympic inventory than some of its larger rivals - and it says that business is in line with expectations. He states: "Primesight has seen an increase in business as anticipated during the Olympic period, based on a realistic assessment of the likely demand. We have a wide range of clients who specifically want to promote themselves during this unique and exciting time for the country."
That's not entirely the way that Gideon Adey, the business development director at the outdoor specialist Kinetic, sees things. He argues that, while agencies have taken a pragmatic view of the market, media owners have tended to err on the side of wishful thinking.
But the situation is by no means as gloomy as some have made out. He says that out-of-home has been outperforming the market, with a growth figure of 6 per cent year on year predicted for the medium by Group M for the third quarter. He states: "The market has ultimately balanced value with demand."
John Davidson, the head of trading at Starcom MediaVest Group, states that neither buyers nor sellers should have too much cause for regret. He explains: "The economy has remained firmly in the doldrums - and we should not forget that the summer months are traditionally a low-spend period. Having said that, LOCOG restrictions put in place to protect sponsors from ambush activity appear mildly Draconian - perhaps a lighter touch would have encouraged more brands to get involved."
But Alan Brydon, the head of investment at MPG Media Contacts, says that media owners have always had unreal expectations. He concludes: "No-one could have predicted what sort of a summer we'd have weather-wise or that advertisers like the banks would stop advertising. But I think media owners started out thinking it would basically be an OK year but the Olympics might make it into a good year. Then they thought it might be basically a rubbish year but the events of the summer might make it into an OK year. For many, it looks like it will just be a rubbish year."
NO - Mungo Knott, marketing and insight director, Primesight
"When forecasts were developed in the years leading up to the Olympics, there may have been some heightened expectations of a boom period, but the challenging economic environment has tempered all media forecasts."
MAYBE - Gideon Adey, business development director, Kinetic
"Media owners appear to have been over-optimistic about the Olympic opportunity, while, in general, media agencies took a more pragmatic view and have advised their clients accordingly since late 2010."
NO - John Davidson, head of trading, SMG
"There may have been an element of reasonable hope and wishful thinking that, by the time the Games had arrived, the economy would have picked up and marketing budgets would have been on the rise."
YES - Alan Brydon, head of investment, MPG Media Contacts
"You have to have some sympathy because no-one could have predicted factors like the weather. But some media owners have been miles out in their revenue forecasts - and that is making life even more difficult for them."
Got a view? E-mail us at campaign@haymarket.com