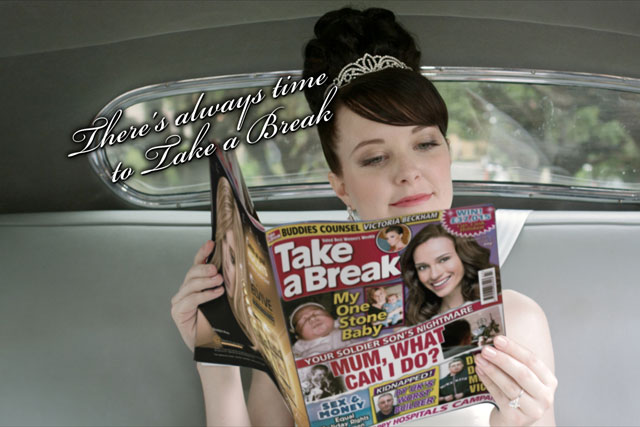 Let's ignore the Audit Bureau of Circulations figures for a while - and point out, in our most militantly optimistic fashion, that the women's weekly sector is a shining example of the virtues of diversity, variety and competition.
In the main women's weekly section, the ABC report lists two dozen titles, representing the very best efforts of the likes of H Bauer, Northern & Shell, Bauer Consumer Media, IPC and Hearst Magazines. And there are also weeklies, of course, in the lifestyle and fashion category too. Not bad for a sector for which the last rites have been rehearsed on at least a handful of occasions in living memory.
And yet women's weeklies have survived the expansion of daytime programming on TV, the colour supplement explosion in the national press and, more latterly, the evolution of websites pandering to the celebrity market and, thanks to the likes of Mumsnet, more practical and domestic interests too.
That's the positive spin. If you're inclined to be slightly less Pollyanna-ish, however, you might point out that the ABC figures represent something of a horror story. Again.
The market leader, Take a Break, was down 6.1 per cent year on year to 803,555; the second-placed New! was down just over 10 per cent to 515,975; and, while number three in the league table, OK!, lost very little ground (and actually gained period on period), the fourth- largest women's weekly, Closer, lost 12.7 per cent to 459,693.
Other notable declines included Heat, down a dizzying 21.7 per cent; Woman, down 9.9 per cent; Pick Me Up! (a rather unfortunate title in this context), down 18.1 per cent; and Woman's Own, down 9.7 per cent. There were a few year-on-year gains, but none posted a growth figure of more than 1 per cent.
So, understandably, there's been renewed speculation about whether it's time for a good old-fashioned "shake-out" in this market.
Dominic Williams, the print director at Aegis Media Central Trading, concedes that, sadly, events might indeed have reached that particular pass: "Yes, I do think there are too many weekly titles. The consumer's pocket has never been so stretched. The past two years have placed a strain on multi-purchasing habits - and the greater tendency towards single-copy purchase is a major contributor to the decline in circulations."
He adds: "The consumer thirst for big stories is still as high as ever - but there are only so many breaking stories each week. So we've been seeing titles running cover headlines that are fanciful at best. The consumer demands value for money and, more importantly, expects to be able to trust the editorial content. Publishers have sometimes been failing to live up to those expectations."
Understandably, Kate Mackenzie, the group trading director at IPC Media, doesn't entirely agree with that analysis. She argues that innovation is keeping the market fresh, and points in particular at the success of the fashion weeklies.
She explains: "Six years ago, the industry felt that the women's weeklies market was well-catered-for, yet genuine innovation occurred with the launches of Look and Grazia, and now the fashion weekly sector is thriving, which demonstrates how rapidly the market can change. When innovation is genuine and taps into an under-served part of the market, you can see that consumers come flocking."
But Vanessa Clifford, the head of press at Mindshare, isn't quite so sure about that innovation track record - particularly in more recent times. She's not convinced that all publishers are keeping up with changes in readers' tastes: "It is, after all, a broad sector, attracting an audience of people in their late-twenties and upwards. I think agencies would worry less about the (raw circulation) numbers if they were reassured about relevancy. I'd like to feel that publishers had a clear understanding of why people might buy weeklies when there are so many other distractions around."
However, Nik Wheatley, the strategy director of MPG Media Contacts, is far more inclined to be upbeat. He argues that women's lifestyles are more vibrant and diverse than they've ever been - and weeklies still have a major role in illuminating lifestyle choices.
And while he concedes that there could have been more innovation of late, he's confident the industry is well-placed to address that. He concludes: "Expect to see some pretty big changes ahead, with the winners being publishers that are flexible with their business models as well as creative in leveraging their brand properties."
YES - Dominic Williams, print director, Aegis Media Central Trading
"There are a number of titles and publishers that need to step up their investment levels. If they fail to act now, we will see a number of closures over the next six to 12 months."
NO - Kate Mackenzie, group trading director, IPC Media
"There is an insatiable desire for weekly magazines as they deliver great entertainment. One of the strengths of the women's weekly market is how dynamic it is and the huge variety on offer."
MAYBE - Vanessa Clifford, head of press, Mindshare
"The question is whether enough titles are adapting quickly enough - and clearly some are doing better than others. If you can be more relevant, then you can hope to attract a new audience to the sector."
NO - Nik Wheatley, strategy director, MPG Media Contacts
"Can a market of no more than 34 magazines really claim to have exhausted the entire sphere of female interests in any seven-day period? This should be an exciting time to be involved in the women's weekly sector - let's hope their owners agree."