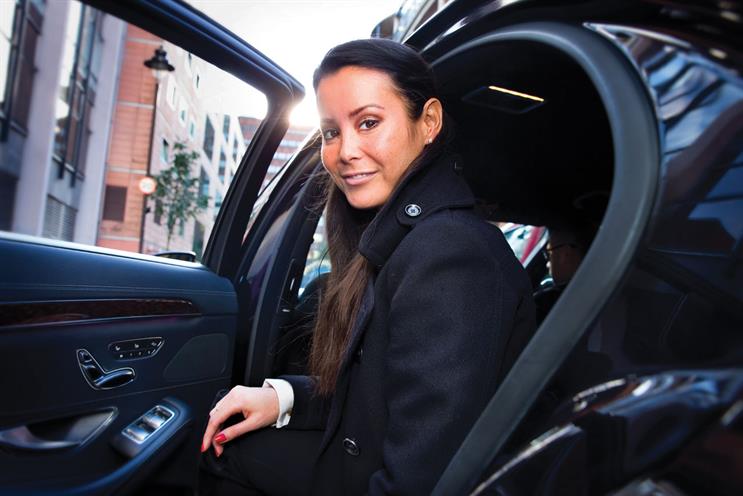 Uber, the service that connects you within minutes to the driver of a taxi, private car or (depending on location) 'rideshare' from your mobile phone, has attracted considerable media coverage: much concerning its disgruntled rivals.
Uber has built a global presence with the subsequent launch of its service in more than 210 cities and 50 countries worldwide
Less widely documented – though still in keeping with the business' desire to broaden customer choice by breaking with market convention – is the extent to which it is challenging received marketing wisdom, too.
Launched back in 2010 in San Francisco, Uber has built a global presence with the subsequent launch of its service in more than 210 cities and 50 countries worldwide. Since arriving in the UK with its launch in London in 2012, it has secured a foothold in Manchester and Leeds, and plans to roll out in other British cities.
"As a brand, we're all about bringing choice to riders," says Stephanie Smart (pictured, right), head of marketing for Uber London, employing the 'Uber-speak' for 'passengers' or 'cust­omers' to make her point. "We're all about being ahead of the competition by bringing innovative ideas to market, and, while professional at all times, we make sure we are a fun and sociable brand, too."
Though it now has more than 2000 employees worldwide, Uber's structure is flat, with an emphasis on local decision-making. "There's no central mark­eting function, with such activity managed city by city, so everyone has a considerable degree of autonomy to run different campaigns," she explains.
Nor are there any appointed external advertising agencies – or traditional advertising, for that matter; all marketing communication is created in-house. Information about every campaign Uber has run to date – details range from which components were needed to the results generated – are acces­sible to all via a real-time marketing directory.
Meanwhile, Uber's 210-plus city offices use hosted group chat, video chat and instant-messaging system HipChat to interact and network so that they can share their experiences and ideas daily.
Tailored to each city
The idea is that each city runs campaigns best-suited to its own particular local market – con­ceived from scratch, or adapted from a campaign already run elsewhere – then shares the results.
That said, Uber HQ does encourage its city offices to jointly participate in what it terms "seasonal on-demand events" – such as delivering an ice cream on demand to customers when the weather is hot, for example (the price of which is billed to their Uber account).
"The size of a city's marketing department depends on how established the business is – a new city is likely to have one marketing manager; in London, I have a team of 11," says Smart.
Uber started out in London offering only its top-end Lux vehicles,
At launch, each city will follow a similar marketing trajectory, though local activity is shaped according to that city's demographics and the kind of cars Uber makes available where.
Launch marketing is driven by a promotions-led-events and partnerships strategy. Uber sets up promotional codes for events partners to offer customers their first ride for free.
It then runs other price promotions, such as offering a customer a cash incentive if their friends download the app, with each friend also rewarded when they take their first ride with the company.
"Partnerships are an important first step to encourage people to download the Uber app," explains Smart. "The events we partner are dictated by which will bring in the right demographic."
Local roots
Uber started out in London offering only its top-end Lux vehicles, so, at launch, it partnered private members clubs, charity galas and upmarket restaurants to reach the "cash-rich, image-conscious and time-poor".
Today, it offers four additional car types in the capital: UberExec, providing "under­stated luxury" for more day-to-day business use; UberXL, carrying more than five people; UberTaxi, offering five seats with wheelchair access; and UberX – at the lowest price.
Post-launch, blogs and newsletters play a role in driving repeat custom. Then, as busi­ness in a city matures, social content becomes a powerful tool to reach particular audience seg­ments or meet specific needs – reinvig­orate lap­sed customers, for example, or en­courage riders who, typically, choose one type of Uber vehicle to try another.
Uber's data­base retains detailed infor­mation about every user who has down­loaded the app and their behaviour since – how often they use Uber and for which journeys, where they travel, which class of car they prefer, and so on. Not only does this enable the business to tailor and segment its marketing communications, it also provides creative inspiration.
So when Uber London decided to boost business last Easter – typically a quiet time of year – analysis of customer data to identify how many people rode to the city's top tourist destinations over this period led to a promotional campaign.
Regular engagement with customers through Twitter, Facebook and Instagram is also important, with competitions a common tactic as well as offers of VIP tickets, provided by Uber's events partners, to encourage riders to share positive experi­ences of the brand across their own social networks.
Another important channel is customers' mobile phones, with 'splash-screen' messaging to app users regularly employed to alert riders to latest offers or campaigns.
Then, as a city matures as an Uber market, its 'stunts' are designed to get the brand talked about – by existing customers, their family and friends.
There's no central marketing function, with such activity managed city by city, so everyone has a considerable degree of autonomy to run different campaigns
"A popular one we did in London recently was 'UberLibre', to deliver cocktails on demand," says Smart. "Bacardi pitched the idea of us delivering its drinks to people.
It was around the time of Cuban Independence Day – the first Bank Holiday of summer. We provided the tech to connect with any one of our customers who wanted a freshly mixed cocktail wherever they were that day, and delivered a Bacardi mixologist to that customer's door."
In another on-demand campaign, 'Uber Cheeky', Uber London partnered lingerie brands to deliver underwear to customers short of a gift for a loved one on Valentine's Day. In the US, meanwhile, Uber has delivered Christmas trees to customers.
Key to success
Key to these campaigns' success is managing the logistics. It's essential to ensure that the supply of whatever 'goodie' is being offered will satisfy suffici­ent numbers of customers, and that enough drivers are available to deliver it. But also important is to manage the disappointment of those who unsuccessfully make a request.
"The important thing is to make it clear from the start that this is a limited offer," adds Smart. "Our aim is to have enough product and enough cars to deal with 60% of requests."
Stunts, too, provide strong topics for social content – created by Uber as well as its customers. But they are also about testing which will evolve Uber's proposition beyond transporting riders between points A and B to providing a portfolio of delivery services.
Smart is eager to develop Uber in London on two fronts: by enhancing the immediate rider ex­perience with innova­tions such as UberPool – a way of sharing a ride with people you don't know, which is already available in the US – and by extending the delivery proposition.
"Los Angeles and New York are great examples of cities where Uber is pushing the boundaries – with courier service Uber Rush, for example, and food-delivery service Uber Fresh, which I am really keen to replicate here," she explains. This is where kittens come in.
In the US last October, Uber partnered popular meme site Cheezburger to raise awareness both of its service and National Cat Day. For $30, Uber delivered to customers successfully requesting the service a kitten for 15 minutes 'snuggle time', with funds raised going to participating cat shelters.
"We've not done anything with kittens here," says Smart. "Though we are looking at the possibility of some­thing with puppies for National Dog Day [if] we can get the support of animal shelters and dog charities."