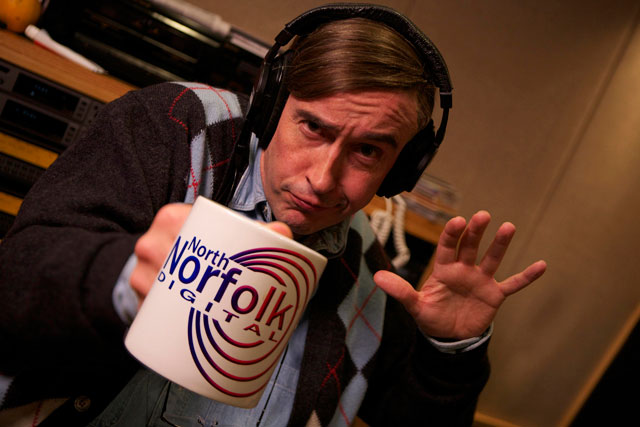 The internet's voracious appetite for content is such that it presents advertisers and agencies with a dilemma.
Do they serve up tried and trusted recipes for which consumers have always had a healthy appetite? Or do they try tickling their taste buds by offering something that's freshly cooked?
Heineken UK, which controls Foster's, has just opted for the former by commissioning a second series of Mid Morning Matters - starring Alan Partridge, Steve Coogan's gaffe-prone DJ from North Norfolk Digital Radio - for the brand's comedy website.
The latter route, however, has thrown up some stylish and innovative work. Asus, the consumer technology company, has created a short online documentary in which the US singer-songwriter Jason Mraz stages a vocal performance recorded on one of its laptops.
Meanwhile, Cartier has spent the past four years dishing up a stunning series of films in which artists offer their interpretation to the question: "How far would you go for love?" Music from the French band Air accompanies the films.
It's all a sharp contrast to the initiative taken by the business software company Sage, which, in 2008, agreed to fund the return of The Krypton Factor, the classic TV endurance contest. It was the largest ad-funded programme deal that ITV1 had ever commissioned.
Did Sage get value for money from the two-series deal? Mark Eaves, who was involved in the negotiations while the managing director of Drum PHD and now runs the content creation specialist Gravity Road, is in no doubt.
"Before The Krypton Factor, Sage had relatively low awareness and little personality," he says. "Afterwards, Sage jumped to number two, just behind Microsoft, in terms of recognition.
"But what was most exciting was how it set the financial community talking about Sage, which was suddenly being seen as an innovative company."
What all this activity suggests is that, when it comes to branded content, there's no right or wrong way of doing it.
In the case of Foster's, the Partridge deal not only reinforces its evolving relationship with comedy - the brand signed Vic Reeves and Bob Mortimer to create an online series last year and it also sponsors original comedy programming on Channel 4 - but helps confront a big marketing challenge.
Tom Puukko, the planning director at Hypernaked, which brokered the Partridge deal, explains: "Beer is a massively commoditised market with little differentiation between brands.
"Working with talent is a shortcut to attaching a value perception to the brand. You can't necessarily do that with new talent. Original content is risky but, with Partridge, you're guaranteed success."
He believes the result is a win for everybody involved: "Coogan gets to do things he couldn't do on a terrestrial channel and Foster's reputation in the comedy industry is enhanced."
It is also an indication of how high branded content's star has risen in recent years. "Seven years ago, it was difficult to attract much attention to branded content," Olivia Yabsley, the vice-president of brand content at Kitcatt Nohr Digitas, says. "Now the quality has got much better."
As a result, branded content will, for the first time, have its own category at this year's Cannes Lions.
The relentless progress of technology that allows advertisers to do more for less and become media owners in their own right is fuelling branded content's growth.
"Not only does it allow consumers to self-edit and avoid overt ad messages, but it allows brands to have a more direct relationship with consumers than ever before," Eaves explains. "For a long time, big branded content projects were TV-centric and quite flat."
Experts agree that, when it comes to choosing a branded content format, keeping risk to a minimum is key irrespective of whether the format is old or new.
"Creating entertainment is a hit-and-miss business," Eaves notes.
All this may explain why some advertisers prefer to stick with the familiar despite some potential problems. One is that negotiating deals for existing formats can be extremely complicated. Another can be what Puukko acknowledges as the "huge gravitational pull" of established talent that can end up overshadowing the brand unless care is taken.
Some, though, suggest advertisers will mostly stay with familiar formats because they have little choice. "At present, a lot of agencies are pretending they can cover all the branded content bases when they don't have the skillsets," Eaves claims. "That means having to venture further into the area of intellectual property rights - and it's a minefield."
FOSTER'S COMEDY BREW
Foster's Funny productions: Mid Morning Matters with Alan Partridge, Vic & Bob's Afternoon Delights, The Fast Show
Sponsorships: Channel 4 Comedy, British Comedy Awards, Foster's Edinburgh Comedy Awards
Partnerships: Comedy Cafe, Up The Creek, Komedia, Highlight, Manchester Arena
Results: 7.7 million views of online content, £4.7 million worth of PR value generated, 11 per cent uplift in emotional affinity scores
Source: Hypernaked.