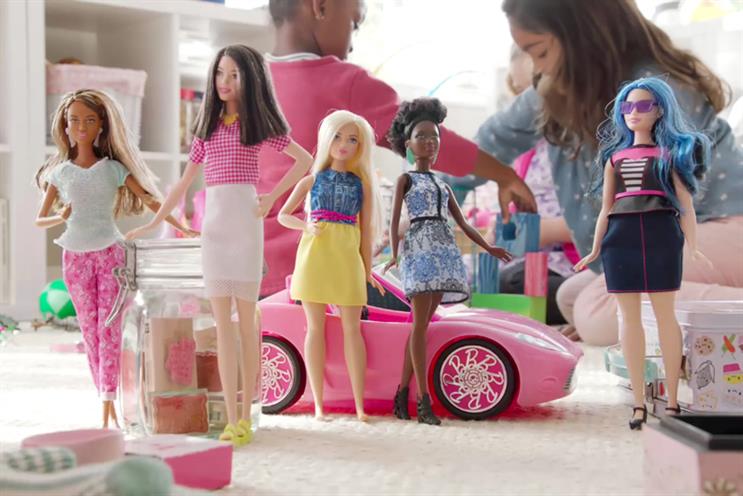 In a revolutionary turn for one of the most famous brands in the world, Barbie dolls will now come in different body shapes. Mattel announced the move on Thursday. In addition to the doll of old, Barbie will also be available in "petite," "tall" and "curvy" versions, less than a year after adding multiple skin and hair options to the doll.
Of course, parents and scholars have been expressing concern about Barbie's figure since the 1960s, so the move is likely motivated more by fortune than forward thinking. Barbie sales fell by one fifth between 2012 and 2014 amid competition from less fashion-focused brands like Disney princesses or less demure brands like Bratz dolls.
"Barbie is emblematic of a move towards inclusivity that any company — not just toys — is wise to make in 2016," said Kat Gordon, founder of the 3% Conference. And if a brand with as much notoriety and baggage as Barbie can change, anyone can. And there are plenty who should.
1. Disney. While children can play with nominally diverse characters like Mulan, Pocahontas or Tiana, there is a disturbing lack of diversity in their facial structures and body types, even more than their ethnicities. And that's in characters from the past 10 years, not the famed Disney Renaissance of the 1990s, when men had the vast majority of spoken lines, even in films where the lone female character got top billing. (I'm looking at you and your magical laryngitis, "Little Mermaid.")
Cindy Gallop, founder of IfWeRanTheWorld, suggests a quick-and-dirty fix. "I would like everyone designing, drawing, animating, casting, to adopt an instant policy — add 10 pounds. Whatever they're sketching out or have in their mind's eye — just add 10 pounds, weight-visualization-wise. I'd like them to add more than that — but it's easier to achieve this in increments."
The same advice might bring a little more realism, at least when it comes to body types, to another set of brands.
2. DC Comics & Marvel Comics. The physiques of both DC and Marvel Comics characters stretch the bounds of credulity like indestructible spandex. Yes, some characters fly or stretch or have bodies made of rocks, but many superheroes (and villains) are ostensibly just buff and well-trained human beings. But the poses, the proportions and the outfits defy the laws of physics more regularly than Tony Stark pulling an all-nighter.
The excuse that comics are a niche market hasn't been applicable since the 1980s. The Rise of the Nerds is complete, and many of them are women who want stories about people they can relate to. There's certainly been some progress with characters like Jessica Jones, FemThor, Kamala Khan, a newly Greekified Wonder Woman and America Chavez.
3. Spirit Halloween & Yandy. Gender inequality isn't relegated just to fictional characters. Try buying an off-the-rack Halloween costume that isn't marketed as "sexy." Easy as a man, but nearly impossible as a woman. "Sexy Grapes" is odd, but "Sexy Little Orphan Annie" seems extremely inappropriate. And I think we all know the inspiration for "Sexy Hamburger."
It's fine to offer costumes with sex appeal — Halloween is for make believe, after all. But the dearth of PG-rated costumes for women isn't only discriminatory, it's bad business. Just check out Pinterest for all the DIY costumes that aren't getting bought at Halloween pop-up shops or online in late September. (Or more realistically, late October. Please offer overnight delivery!)
4. Schick Hydro. Everyone knows that women's razors cost more and work less. A four-pack of five-blade Schick Hydro 5 razor blades (blue box, blue handle) retails for $14.99. A four-pack of five-blade Schick Hydro Silk razor blades (purple box, powder-blue handle) costs $18.49, according to the New York City Department of Consumer Affairs.
We're picking on Schick, but the same goes for the new mail-order razor services geared toward men that have been popping up everywhere. Harry's makes good blades, but is there a reason the marketing needs to make women feel butch for wanting one. At least they're not upcharging women for the special "lady color" like Schick does.
Resisting diversity in a product line, especially a well-established one, might buoy profits in the short-term. But it's ultimately self-defeating.
"Many manufacturers are limiting their buying audiences by telegraphing that they're for a narrow group," Gordon said. "That's the exact opposite of what a mainstream marketer should want to do."
Follow I-Hsien on Twitter @ihsiensherwood.