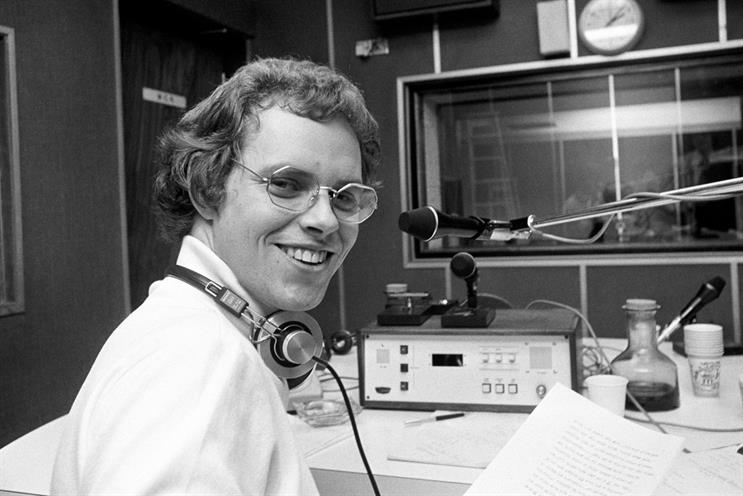 Monday, 8 October 1973, just before 6am. In Gough Square, off Fleet Street, the UK's first legally authorised commercial radio station, LBC, is about to go on air.
In Oxford, I'm scouring the airwaves on my transistor radio, hoping the medium wave transmissions will stretch along the M40.
I'd just joined Campaign as a junior reporter and was desperately keen. But I'd got married two days before and my wife was less wedded to the idea of waking up early to listen to the radio.
Through the earphone, I could just make out the crackly sound of LBC's opening words, delivered by David Jessel: "This is London Broadcasting, the news and information voice of independent radio.
Welcome to LBC. It's six o'clock…"
It was a historic moment – but LBC's honeymoon was to be shorter than mine.
It had a dreadful start. The Economist accused it of "lacking the authority a news and current affairs station needs".
Within weeks, in the House of Commons, the Labour MP Gerald Kaufman said LBC "has hardly any listeners, gets hardly any advertising and seems to be on the verge of financial disintegration" and asked: "Would it not be kinder to put it out of its misery?"
Capital Radio, which had gone on air a week later, also got into difficulties – and ad agencies were scathing about the new medium's failings.
In Campaign, I reported their criticisms and – in the last splash of 1973 – the demands of LBC's journalists that the station's management had to go. Just before Christmas, the chief executive and chief editor were fired.
And then things started to look up. New Year's Eve saw the launch of Glasgow's Radio Clyde, led by Jimmy (now Lord) Gordon. It was an immediate success, showing just how vibrant independent local radio could be, connecting with listeners in a way that the BBC had found difficult to do.
Other local stations quickly followed – Piccadilly in Manchester, where Chris Evans would later learn his trade; Birmingham's BRMB; Radio Hallam in Sheffield; and Liverpool's Radio City, where Gillian Reynolds was the first programme controller.
At LBC, a new editor was appointed – Marshall Stewart, poached from BBC Radio 4's Today. In a Campaign interview, he said: "The BBC has no divine right to expect an audience for its news simply because of its reputation."
Gradually, LBC and its sister company Independent Radio News, which provided the national news service for all the local stations, began to build their own reputation. Although resources were very limited, they were faster on their feet than the BBC.
"Actuality" – the sound and atmosphere of what was going on – was a top priority.
Commercial radio kick-started the careers of dozens of today's best-known broadcasters, including Jon Snow, Julian Manyon, Martha Kearney, Nicky Campbell and Peter Allen, and two of the BBC's specialist editors, Mark Mardell and Mark Easton. Many producers, editors and executives started there too.
But it still wasn't easy, as Reynolds recalls: "It was born into national industrial strife and nightly power cuts. The chances of it surviving, let alone thriving, seemed slim."
In 1974, Edward Heath's Conservative government was voted out and Labour's Harold Wilson returned.
The network was frozen while the Annan Committee cogitated on the future of broadcasting.
With no national presence, commercial radio was badly disadvantaged in its appeal to national advertisers. Warring sales houses made matters worse. And the commercials themselves didn't help.
The most effective ad in the early days had the unfortunate effect of driving listeners away. Freddie Barrett of Barrett's Liquormart became a household name by singing his own jingle in an unforgettably awful way: "Come to Barrett's, come to Barrett's, Barrett's Liquormaaaarrrt!"
Eventually, the government gave the go-ahead for more stations, including the first national ones – Classic FM, Virgin and Talk Radio. Independent Radio News was given a nationally networked ad break, Newslink, so that national advertisers could reach the whole country. The Pepsi Network Chart Show did the same for music. And, in due course, the national radio groups, Global and Bauer, were established.
The Radio Advertising Bureau, under Douglas McArthur (pictured above), transformed the way radio was perceived by advertisers, steadily increasing what had been known as the "2 per cent medium" to a much higher share of national ad revenue.
Every other medium, including ITV and national newspapers, was galvanised into setting up its own version of the RAB.
And the ads got better – in a few cases, spectacularly so.
When Mel Smith died recently, the obituaries reminded us of the hilarious "Gerald the Gorilla" sketch from Not The Nine O'Clock News.
For many of us, the radio ad he created with Griff Rhys Jones for Philips video recorders was equally brilliant.
"Firips" was voted the UK's best radio commercial of all time in the RAB Hall of Fame. It pitted Smith as a gormless customer, convinced that only the Japanese can make high-quality electronics goods, against Rhys Jones as the salesman who listed the benefits of the VR2023.
"It's a Philips," Rhys Jones concluded. "Doesn't sound very Japanese," Smith said. "No, Firips. I mean a Firips. It's a Firips," Rhys Jones responded.
To celebrate the 40th anniversary of commercial radio, the industry has drawn up a Roll of Honour of 40 individuals who have helped shape its success. It includes Gordon, Evans, Reynolds and many more.
In my view, Smith and Rhys Jones would have been worthy names on the list, for demonstrating the huge creative potential of commercial radio and inspiring others to do the same.