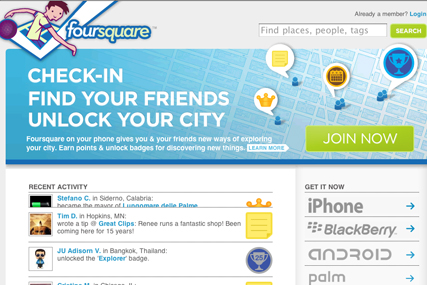 Dennis Crowley, chief executive of Foursquare, tweeted that the location-based service had experienced its "biggest day ever in terms of new signups".
Facebook this week launched Facebook Places, a gelocation tool that allows users to check-in at locations. The function is the core offering of Foursquare.
But unlike Foursquare, Facebook Places does not have a gaming element to reward users who check in. Instead, it is a tool that allows users to let friends know what they are doing.
In the longer-term, Foursquare could find its signup numbers hit as Facebook Places establishes itself in the market place.
The launch of the tool has prompted fresh concerns around Facebook's privacy settings.
Facebook Places has a privacy control in place, meaning it will only tag friends who are signed up to the application and whose settings allow it. Also, only users' friends will be able to see the locations where they have checked in, and they can remove themselves if they do not want to be tagged.
The day before Places was rumoured to launch in the US, Foursquare introduced new privacy settings, updating its frequently asked questions page and adding a 'Privacy 101' page to educate users about exactly how information is shared on Foursquare.
The difference in size between Facebook and Foursquare is vast.
Facebook recently announced it had passed the landmark of 500 million users globally, with 150 million members using it on their mobile devices. Foursquare is approaching three million users, according to Mashable.