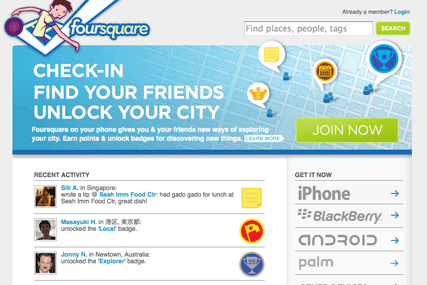 The platform has become popular with urban dwellers in the US as a source of recommendation for eateries, shops and local attractions. It added London to its list of networked cities last October.

Foursquare detects players' whereabouts through the GPS function on their mobile handsets.

When they visit shops and restaurants, the players can gain points for 'checking-in', allowing them to unlock 'badges' and become the 'mayor' of particular location.

Foursquare hinted yesterday (Thursday), that the one million-user mark was imminent, posting on its Twitter page: "We're closing in on one million users! Current count is 9969,775. Looks like that we may have something to toast during Friday Happy Hour".

The Tweet was posted at 9.23am on 21 April.

It has taken Foursquare just over a year to reach the milestone, though the company has yet to acknowledge hitting the figure. By comparison, it took Twitter two years.

In the UK, Debenhams and Domino's Pizza became the first major UK brands to target consumers via Foursquare.

Brands support the service by offering deals to participants based, for example, on the number of times someone 'checks in' to their local branch.

The benefits for brands include increased footfall. Debenhams and Domino's are using Foursquare as a customer-retention tool.

Foursquare was unavailable for comment.