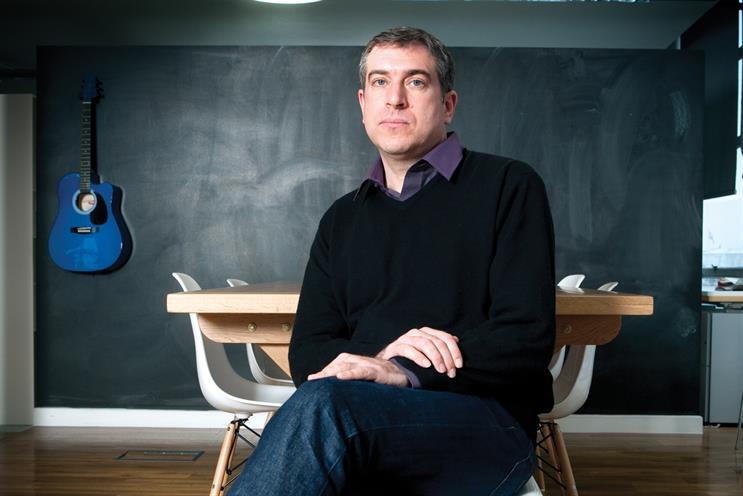 In the aftermath of our interview, Jonathan Fowles pings over an email about, of all things, fly fishing. Earlier, in wrapping things up, we (as in the Campaign royal we) had expressed surprise at his confession that he likes slipping into waders now and then – and perhaps he was worried we were about to portray him as an old fuddy-duddy.
A bit like the legendary JR Hartley of the classic Yellow Pages ad, perhaps, reminiscing in his tweeds by an open fire. We weren't, of course. Quite the opposite. We were going to flag up this pastime as an interesting paradox. We'd always marked him out as one of the advertising industry's leading urbane (and, by definition, thoroughly metropolitan) intellectuals – not a hunting, shooting or fishing sort at all.
But in the e-mail, characteristically, he beats us to the punch. "On reflection," he says, "what is maybe interesting about fly fishing is that it is an interesting mix of incredible age-old tradition and history, combined with cutting-edge modern technology in the equipment."
Perhaps, he adds, there is an ad industry analogy to be teased out here. Indeed, maybe there is. And who better to explore this analogy? After all, Fowles bows to no-one in his commitment to evolutionary thought at the cutting edge of the media industry. It's very much part of his brand – and he's just spent a good part of our interview time telling us that innovation is absolutely top of the agenda in his new role.
In fact, it is safe to say that he wouldn't have accepted the offer if it hadn't involved another opportunity and perhaps his best one yet: to reinvent the media agency.
Last week, he was unveiled as Initiative's new chief strategy officer for the network's G14 region (the UK, Ireland, Germany, France, Italy, Spain, Russia, Benelux, Australia, India, China, Japan, Brazil and Mexico), reporting to Marc Bresseel, the G14 president.
Based in London, Fowles will be responsible for driving the strategic work for many of Initiative's leading clients across the G14
cluster; and it is expected that he will also work alongside other G14 and worldwide leaders to develothe agency's strategic approach in pitching and business development. According to Bresseel, he will help "unlock" (more of) Initiative's substantial latent potential.
For the network, it's a surprisingly heavyweight signing. Actually, we say that – but the fact is that Initiative's ability to attract this sort of calibre of talent is no longer much of a surprise. Fowles' arrival is part and parcel of a continuing (and, in some senses, rather remarkable) renaissance at Initiative under Jim Hytner, who succeeded Richard Beaven as the global chief executive back in March last year.
The most potent recent marker of progress was surely its win, in October, of global comms planning duties on Unilever's household care brands.
So, actually, we would be lying if we pretended we were really all that shocked that it has just landed (no fly-fishing pun intended here) one of the most talented comms planners around.
Fowles spent 15 years at PHD, rising to the position of executive planning director before leaving in 2008 to become the executive director, head of strategy and insight, at Manning Gottlieb OMD.
He left earlier in January, at that stage without a job to go to, having become disillusioned with the industry. Now he's in a hugely upbeat but feisty mood, fired with almost evangelical zeal for the task ahead. And in that context, he's keen to knock on the head our insinuation that, actually, he has primarily been drafted in to get the ball rolling on the Unilever business. Yes, he agrees, as he helps Initiative build its strategy offering, the fruits of that will "rub off" on Unilever work. But the Unilever success, he emphasises, is symptomatic of a bigger story at Initiative. "The win shows we can punch with the best [media networks] and work with the best clients in the world," he states.
Now, he declares, Initiative is poised to take a lead role in the next phase of the industry's evolution. He explains: "I've been very lucky to work at great agencies in the past but, in my 20 years in the industry, I've developed a strong point of view about its unfulfilled potential. Media agencies talk a good game. But none have really grasped the amazing opportunity there is to become top-table partners for their clients. The industry should be embarrassed that it just hasn't developed in line with an evolving business landscape."
And he offers two ways in which Initiative is ideally placed to be first to grasp this prize. First, he argues, in comparison with rival global media networks, it has less of a vested interest in the status quo; and, second, senior management has the eternally questioning mindset most commonly found in start-ups.
Clearly, Fowles is offering up several hostages to fortune in making these bold claims. He says he's comfortable with that notion: "If I want to be known for anything, it's having a strong opinion. There are too many people these days [in the media industry] who just don't have a view."
And he concludes, in somewhat combative mood: "In the media agency world, there are a lot of vanilla offerings out there. Everyone's strapline says exactly the same thing. It's a shame it's so bland. We're in a creative industry. It should be exciting. I hope I can bring a little of that to Initiative."