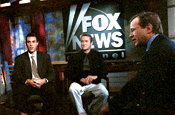 The watchdog rejected a complaint that a national press ad was misleading for using the slogan.
It also rejected two complaints about the ad's claim that it was a pioneer of fair and balanced news coverage.
The ruling said: "We considered that 'fair and balanced' would be seen as News Corporation's opinion of the service they provided rather than an objective claim."
It also said that readers would not be likely to understand the pioneering claim to refer to the channel being the first dedicated news channel.