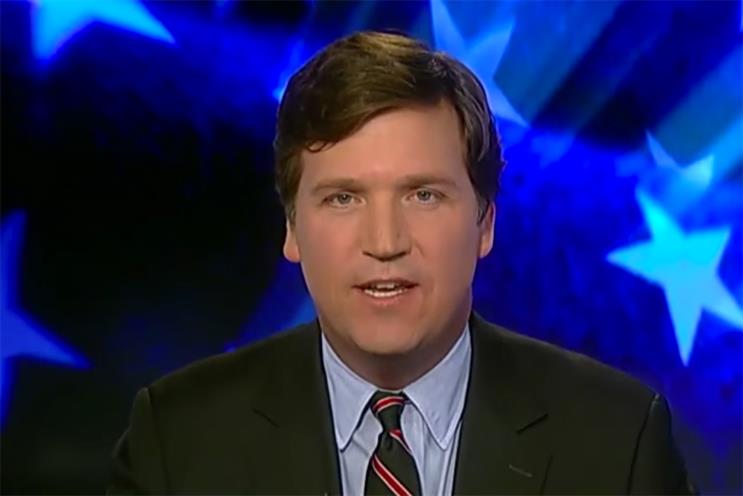 Just two days after Megyn Kelly announced she was leaving Fox News, the network has named Tucker Carlson, now host of "Tucker Carlson Tonight," as her replacement in the 9 p.m. ET weeknight hour, effective this Monday. Martha MacCallum will step in for Carlson at 7 p.m. with a new news program called "The First 100 Days," which will chronicle the beginning of the Donald J. Trump administration.
Carlson replaced Greta Van Susteren in the 7 p.m. hour in November when Susteren abruptly exited Fox News amidst the sexual accusations against former Chairman Roger Ailes. Since then, Carlson has become the top-rated cable news option in the time period, with an average 2.82 million viewers and 515,000 adults 25-54 (through the end of 2016), according to Nielsen. That's more than double what "Erin Burnett OutFront" on CNN and "Hardball with Chris Matthews" on MSNBC are pulling in that time period combined. Carlson also grew the Fox News audience at that hour by 23 percent (26 percent in adults 25 to 54) over the same period last year.

Carlson's audience size was almost identical to what Kelly was getting on "The Kelly Files," so moving him into the job would seem a natural fit. But coupled with MacCallum's move to the 7 p.m. hour—temporary though that may be—it raises questions about the wisdom of pairing three similarly themed hours in primetime.

"What Tucker Carlson does is establish an opinion lineup on Fox News in primetime," noted Bill Carroll, VP of content strategy at Katz Television Group. "Megyn Kelly was doing more of a news show than an opinion themed hour. So, it's hard to know how that lineup of all opinion will play. But, certainly their most successful shows, like 'The O'Reilly Factor' and 'Sean Hannity' are opinion based, so this could be just the right maneuver."
Rupert Murdoch, executive chairman of 21st Century Fox, called MacCallum "a versatile and skilled anchor who has proven to be an essential component of our news programming," in a statement. "For the last 12 years, our viewers have trusted her reporting and we are pleased she will be part of our primetime lineup for the first 100 days of the new presidency."
Kelly's last day on Fox will be Friday. She will then move to NBC, where she will host a daytime talk show and a Sunday evening news program.