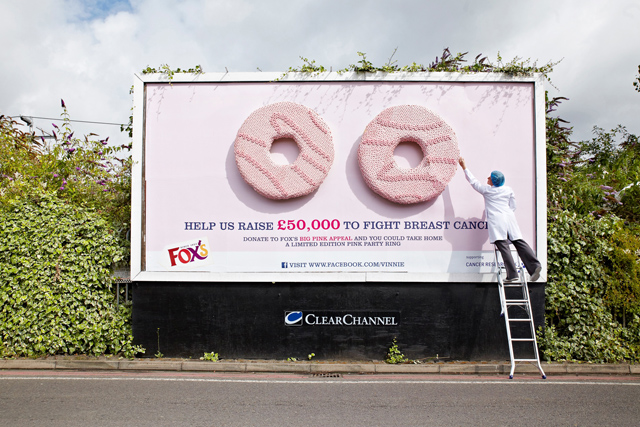 The Northern Foods brand has so far raised £249.50 as part of "The Big Pink Appeal" (at the time of publishing), which launched at the start of this week. The appeal will run until its £50,000 target has been reached.
The outdoor stunt involves the display of what Fox's claims to be the world's largest pair of party rings – two giant pink Fox's biscuits mounted onto a billboard outside the O2 Centre on the Finchley Road, North London. It will be live until the first week of September.
The billboard urges consumers to log onto the brand's Facebook page, www.facebook.com/vinnie and donate money via a dedicated app. The first 400 donors will receive a limited edition pink Fox biscuit ring.
Fox's Biscuits' brand character and 'No 1 fan', Vinnie the panda, is being used as part of the brand's social media strategy to drive consumers to its donation page. The character has posted messages such as, "Love biscwits. Hate cancer. Donate now. http://on.fb.me/RKQ0qe."
Fox's Biscuits will also turn its packaging pink to raise awareness of its fundraising work, with 2.5p from each pack sold to be donated to Cancer Research UK for the duration of breast cancer awareness month, this October.
Rachel Moffatt, brand sector director, Fox's Biscuits, said: "Whilst this installation might lead to a few chuckles, breast cancer is no laughing matter and the message behind this is a serious one – we need the support of the UK to donate now to help beat breast cancer."
In October last year, Reckitt Benckiser created the "World's largest bra" under its Vanish cleaning brand, to raise awareness and funds for breast cancer awareness month.
Follow @loullamae_es