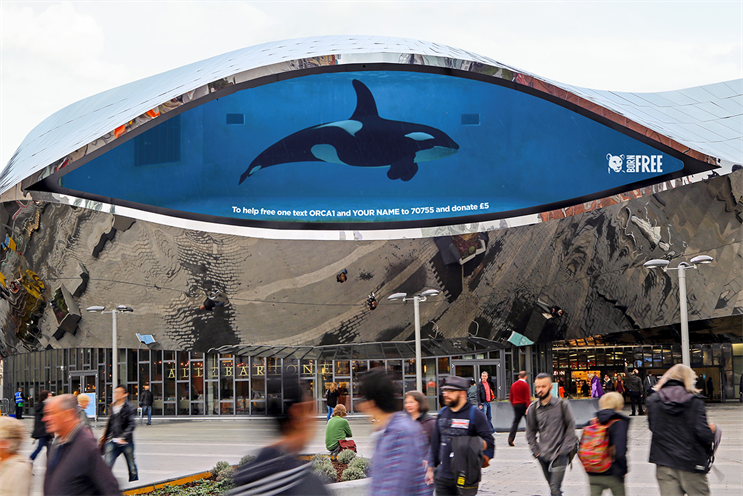 To celebrate World Orca Day on 14 July, the Born Free Foundation and award-winning ad agency WCRS are launching an attention-grabbing campaign to raise awareness of the plight of captive orcas.
Using screens supplied by Ocean Outdoor, which has already recognised WCRS for creative use of digital campaigns, and CGI supplied by The Mill London, #TankFree takes place in five locations across the UK, where large digital screens will display full-motion images of orcas confined to virtual tanks.
Concerned passersby can set the whales free by texting donations to the Born Free Foundation, with each donation of £5 causing one to break free from the confines of its tank, and swim to freedom. However, as each orca is freed, a new one will take its place, awaiting the next generous donation.

WCRS creative director Steve Hawthorne said: "Sometimes the most powerful way to get a problem across to people is simply to show it to them in a way that's hard to ignore. Creating life-sized orcas, in digital screens the same size as the tanks that many orcas are kept in, allowed us to do just that."
"There are currently 62 orcas in the world which are forced to live in cramped conditions and perform unnatural tricks at marine parks and aquariums," Born Free co-founder Virginia McKenna said. "This highly visual, dynamic appeal [...] will help in our mission to end the practice of keeping cetaceans in captivity."
The displays can be seen on 14 July at the Westfield Stratford, London, the Birmingham Media Eyes, Liverpool Media Wall, The Screen @Arndale in Manchester and St Enoch, Glasgow.
Submissions to Ocean's 2017 creative digital competition are now open.