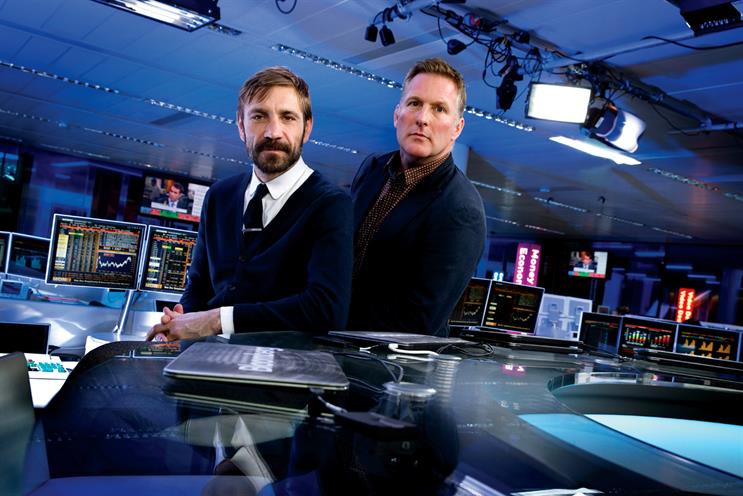 Adam Freeman is a man on a mission. In his own words, the speed and intensity of his working day at Bloomberg is "relentless" at present, like nothing he has known before.
There is no chance of finding Freeman on a business ski trip this season, although he has just returned from glad-handing politicians and business leaders in Davos.
When we meet, the 45-year-old former commercial chief at The Guardian is trying his best to ignore a rasping cough. He has no time to fall ill: not now.
After six months of planning, Freeman, who became Bloomberg Media's first managing director for Europe, the Middle East and Africa in May last year, is about to launch his first "game-changing" initiative.
"BloombergBusiness.com launched in the US this week, and we will launch a local-version BloombergBusiness.co.uk in March," he says. "We've never done anything like it before."
Nate Lanxon, a former editor of Wired.co.uk, has been hired to spearhead the editorial operation, which will have a broader business remit to provide content and context beyond the group's financial heartland to include verticals such as technology, science and even media.
It promises to make Bloomberg more of a direct competitor to the established business publishers – think the Financial Times, The Wall Street Journal – as well as burgeoning start-ups such as Business Insider and Mashable.
Freeman says: "The language of the site, Bloomberg Business, is very important. It's not Bloomberg Finance or Markets. This will be played out across all our platforms, including the Twitter handle @Business – a fantastically broad and powerful handle.
"There's business in everything. Bloomberg Business will be comprehensive in its range of subject matter, covering financial news, geopolitics, entertainment, tech, the markets, the role of cities and city life.
"Its editorial tone will be very different to any business journalism that I've ever seen. There's a celebration of business and the dynamism of business and the recognition that our working lives are now completely different."
'Unlike many of our competitors, this is a growth story from an audience, profile and revenue point of view'
When Freeman joined the company last summer, no-one knew quite what to make of it. For many clients and media agencies, Bloomberg has historically offered limited opportunities. Too specialist to be a mass-marketing play and too globalised to attract UK-specific clients.
Bloomberg Business hopes to go some way towards addressing that. The brainchild of Justin Smith, the chief executive of Bloomberg Media, its aim is to tap into the disruption that has seen decades-old media-consumption habits change overnight.
Setting the tone last year, Smith said: "This [transition] presents a huge opportunity. As our traditional competitors buckle under their own legacy weight, we are unencumbered, benefiting from a series of unique corporate advantages: the Bloomberg business model; our owner's insistence on long-term perspective; a culture of disruption; and an established tradition of high-quality journalism."
Much of the company's bullishness stems from its terminal subscription model. The real-time computer network that delivers data, news and analytics is now synonymous with City life. Despite growth slowing in recent years, it still has more than 310,000 subscribers each reportedly paying $24,000 per year.
Underlining its position of strength, Bloomberg LP's group revenue has increased from $6 billion at the height of the financial crisis in 2008 to a projected $9 billion in 2014.
"Unlike many of our competitors, this is a growth story from an audience, profile and revenue point of view," Freeman says. "Bloomberg is not developing its media business to stay still – we're in this to innovate and grow."
If Freeman is to have any success in shifting the dial, his relationship with the commercial director, Matt Teeman, who joined in August last year, will be key. The pair have clearly grown close since the summer, trading insights and good-natured insults freely and finishing one another's sentences.
They talk excitedly about the "untapped potential" of building a centralised media operation, the "entrepreneurial spirit" within the group and the excitement of rolling out plans across multiple markets.
Teeman, ever the media dandy, stands out from the 3,000 suits toiling away in Bloomberg's Tardis-like Finsbury Square office. Relishing his role as a media maverick amid Bloomberg's corporate culture, he has spent the first few months there dismantling silos.
"We have come a long way very quickly," he says. "When I got here, it was pretty dysfunctional: no communication, no strategy across the commercial teams – no co-ordination. We were selling print downstairs, TV and digital upstairs – many with different lines of report."
Getting a sense of Teeman's commercial operation, within a private, global company, is not easy. He is part of a 150-strong worldwide workforce, and EMEA is said to have generated "tens of millions of pounds" from advertising over the past year. Sources suggest that the team generated revenues of about £30 million in 2014.
Clients include financial providers such as Zurich and energy companies including Statoil and Shell. Teeman believes this can broaden out to encompass the luxury, fashion, tech and automotive sectors. Highlighting a "massive new-business opportunity", he admits 70 per cent of clients only use one Bloom­berg channel at present.
Revenues are said to be broadly split between TV (45 per cent), digital (35 per cent) and print (20 per cent). The aim is to achieve "at least double-digit growth" as a group in 2015.
From next month, Teeman will spearhead a series of roadshows for agencies across the region to start the new conversation. The company also plans to broadcast live from this year's Advertising Week Europe and will have a presence at the Cannes Lions for the first time.
Grant Millar, the chief executive of ZenithOptimedia, has had an early preview and likes what he has heard. He says that the timing is good, as business becomes increasing popular, and also notes that it's digital and data-led, which is "driving opportunities throughout agencies right now".
Pedro Avery, the chief executive of Arena, which handles media spend for Credit Suisse, among others, says that the challenge will be in how much Teeman is really able to join up his proposition.
Avery says: "I have to work a bit harder with Bloomberg as it falls outside of traditional trading metrics – Bloomberg TV is not on Barb, for example – so we need creative opportunities at scale. Getting within sight of those people using terminals would also be a major pull."
The launch of Bloomberg Business coincides with swee­ping management changes at the company. The billionaire founder, Michael Bloomberg, returned to the fold last month after 13 years at City Hall as New York's mayor.
Bloomberg himself is said to have taken a particular interest in the evolution of the media side. Lorna Tilbian, the executive director at Numis, is not surprised and recalls attending the launch of his autobiography, Bloomberg By Bloomberg, 17 years ago.
"Martin
Sorrell
asked at the event why Bloomberg doesn't spend more money on advertising," she says. "Even back then, he pointed to his loss-making media assets as the best way to promote the scope of the business."
Tilbian believes the move now to leverage those assets makes sense for a company that has, in just three decades, garnered the same sort of brand equity as its 160-year-old rival Thomson Reuters.
It is early days, but Freeman's success in repositioning Bloomberg Media will rely just as heavily on the company's founder himself, and his support for the new direction, as agencies and clients.
Bloomberg Media's commercial team:
Matt Teeman, commercial director
Simon Baker, head of business development
Katie Cawdery, head of marketing, planning and insight
Damian Douglas, head of agency sales
Anna Foot, head of financial sales
John Pentin, head of business sales
Helen Simmonds, head of operations
Emma Winchurch-Beale, head of luxury sales and global publisher Bloomberg Pursuits
(TBC), head of solutions