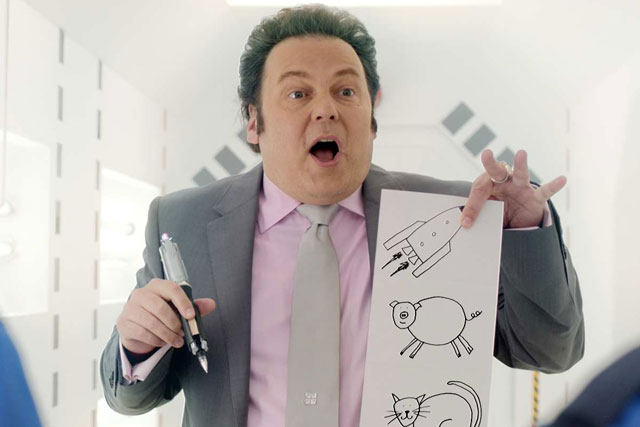 The Freesat TV ad has been seeded online ahead of its first airing on TV on Monday (21 November) and marks the return of the Freesat 1 satellite space station orbiting earth and Team Freesat (Stanley, Stu and Izzy).
The team has an unwelcome visitor in the form of "spaceship-to-spaceship salesman" Lance who arrives with his complicated and confusing sales pitch – the antithesis of Freesat's straightforward offer.
After the cost of installation, Freesat is totally free. In the past year it has added the ITV Player to its service as well as several new channels, including two in high-definition.
The ad is the second TV campaign by VCCP since it picked up the account nearly two years ago. It was directed by 'The Mighty Boosh' director Paul King from Stink and stars actor Rich Fulcher, who played Bob Fossil in 'The Mighty Boosh'.
At VCCP the copywriter was William Bernhardt and the art director was Matthew Mifsud. Post production was by Framestore and audio-post production was by Wave.
Will Abbott, marketing and communications director at Freesat said: "We've brought Team Freesat back together on Freesat1 to create an entertaining campaign with a simple message – that in the face of increasing complexity and choice Freesat offers customers an easy way to enjoy brilliant TV, catch-free."
Media planning and buying was by MPG Media Contacts.
Freeview's £60m three-year marketing push launches tomorrow as part of a last-ditch attempt to take share from pay-TV brands as the UK digital switchover nears completion by promoting the "generosity" of its offering.
It is unclear what form internet-connected TV joint venture YouView's marketing will take after its marketing director Tim Hunt departed last month. Adam & Eve won the YouView account in November last year.
Follow Maisie McCabe on Twitter @MaisieMcCabe