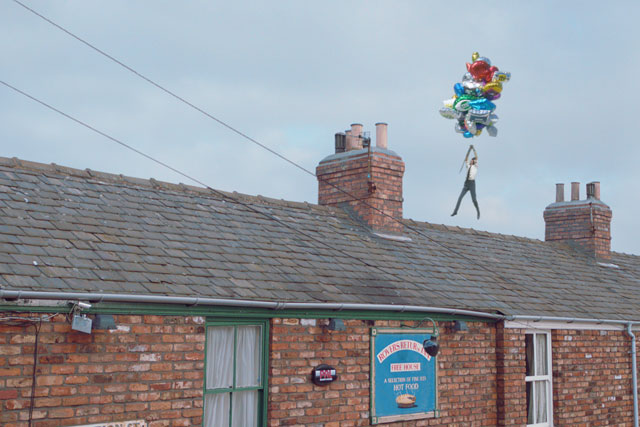 Two weeks ago Freeview kicked off a £60m, three-year marketing push in an attempt to take share from pay-TV brands with a fresh positioning based around the "generosity" of its offering.
To expand the main campaign bespoke ads have been made showing the balloons from the Leo Burnett Freeview ad appearing in ITV and Channel 4 programme locations from 'Coronation Street', 'Emmerdale', 'Shameless' and 'Deal Or No Deal'.
It is the first time ITV and Channel 4 have allowed locations from any of their programmes to be used to promote another service or product and a spokesman from Freeview said it was to engage viewers with the Freeview brand.
The 10-second spots were created by ITV Creative and The Outfit (for Channel 4) in conjunction with Freeview's ad agency Leo Burnett and will appear in the same ad breaks as the 60-second "balloons" TV advert which launched last month.
Media planning and buying was by WPP media agency MEC.

The promotion brings to life the brand's new positioning based around the concept of generosity and highlights the quality of content that Freeview offers free from contracts and free from subscription.
Guy North, marketing communications director at Freeview, said: "Associating the brand with great programmes and giving viewers the opportunity to get closer to the content will help to build the relationship between viewer and Freeview.
"We know that people are using tablets, smartphones and laptops at the same time as watching TV and we're looking to activate this audience by using social networking channels as the call to action."
Freesat, the free-to-air satellite broadcaster, also launched major campaign last month in a bid to promote its simple "catch-free TV" proposition. As part of the campaign it signed a marketing partnership with Channel 5.
Freeview is jointly owned by the BBC, BSkyB, Channel 4, ITV and Arqiva.
Competition prizes
'Shameless' set visit: Travel to Manchester to meet the cast. Four star accommodation, Michelin star meals and LG Freeview HD TV
'Deal or No Deal' studio tour: Travel to Bristol to meet Noel Edmunds and tour the television studios, hotel and meals and LG Freeview HD TV
'Emmerdale' set visit: Travel to Leeds to tour the ITV studios and trip to the Emmerdale village. Four star hotel, meals and £500 spending money
'Coronation Street' set visit: Travel to ITV Granada studios in Manchester for a tour and trip to the Street. Five star hotel, meals and £500 spending money
Follow Maisie McCabe on Twitter @MaisieMcCabe