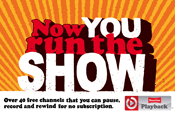 The review, which is being handled by the AAR, will begin immediately with a decision expected by September.
The company is keen to have a campaign up and running by October to build the brand in the run up to the Christmas period, a popular time for sales of the set-top boxes.
However, Freeview has not yet devised an advertising plan for the winning agencies and is considering all possible solutions.
The company's current media agency, M2M, will be asked to re-pitch for the business.
Freeview does not have a retained creative agency. Its only major advertising to date has been its launch campaign, which was created by DFGW.
According to Ofcom the number of households with digital television rose from 77.3 per cent to 80.5 per cent in the first quarter of 2007, meaning that there are now 20.4 million homes in the UK with digital TV equipment connected to their TVs.
In that period Freeview increased its customer base by 670,000, taking the number of Freeview-only homes to 8.37 million. This total is marginally behind Sky, which has 8.49 million customers.