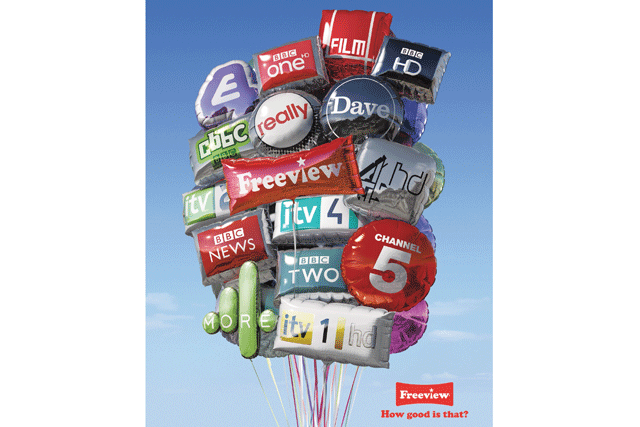 The digital switchover is nearing completion, with the analogue TV signal in London due to be one of the last to be turned off next April. Consequently, TV brands, technology companies and ISPs are set for a race to guide consumers through the altered landscape in 2012.
One company in the thick of things is Freeview, the free-to-air digital TV service jointly owned by the BBC, BSkyB, Channel 4, ITV and Arqiva.
The switchover has worked in Freeview's favour so far, as it comes installed on most new digital TVs. However, with analogue conversions drying up, fresh challenges lie ahead.
In response, Freeview is investing in a £60m marketing push over the next three years, and a shift in strategy away from tactical product-based marketing toward a long-term brand positioning based on the 'generosity' of its offer.
For marketing communications director Guy North, this means getting the brand 'in good shape' to ensure it is 'clearly understood' by consumers.
He adds: '2012 is a big year for Freeview, where the gloves are coming off and we need to stand on our own two feet in the marketplace.'
This week, it launches an integrated campaign, created by Leo Burnett and introducing the strapline 'How good is that?' While the brand offers content in a similar way to Freesat, with a one-off cost incurred, it ranks pay-TV services from the likes of BT and Virgin Media as its main competitors.
'Consumers are sleepwalking into a pay-TV world without realising there is an alternative,' claims North. This campaign, therefore, is intended to reach 25- to 44-year-olds, who are considering 'churning in or out' of pay TV.
According to Ofcom's 'Digital TV Update' research for the first quarter of this year, Freeview has the greatest market share. It is used in 10.2m homes, followed by Sky in 9.3m, Virgin Media in 3.4m and FreeSat in 2.1m.
Tess Alps, chief executive of commerical TV body Thinkbox, says that 'navigational brands' offer consumers the trust they need. 'It will be hard for new players to come in now, but undoubtedly, some will still try,' she adds.
Meanwhile, the launch of YouView is on the horizon. Positioned as a Freeview upgrade, YouView will offer more content with on-demand interactive services. It is owned by the same shareholders as Freeview, and some industry insiders speculate it is unlikely that both brands will be supported.
David Abraham, chief executive of Channel 4, had previously said that YouView's delayed launch was down to 'how the marketing is phased, what will be needed and when', with ISPs planning to promote the service in their marketing activity next year.
North argues that YouView will attract consumers at the top end of the free sector, with Freeview's marketing intended to make this distinction clear. With the board having signed off a £60m marketing investment for the latter, it seems questionable whether it will throw in the towel for the brand.
Jean-Paul Edwards, executive director, futures, at Manning Gottlieb OMD, argues that as fresh technologies flood the TV market and convergence takes place, consumers will need 'something to hold on to' and that brand voice will become crucial.
With such uncertainty, there is no doubt Freeview is preparing for a fight. Armed with a clear strategy and princely marketing investment, it is ready to defend its market share.
IN MY VIEW - EXPERT COMMENT - Jean-Paul Edwards, Executive director, futures, Manning Gottlieb OMD
The industry has been defined by the digital switchover for the past 10 years and now we are entering a dynamic period in the TV marketplace, with convergence a dominant theme.
Suddenly it's not just about the TV set, it's about telephony, connected TVs, second screening, social TV; all sorts of things converging at once.
Brands will need a strong voice to give consumers something to hold on to, because this is potentially very confusing for them. Each brand is taking its own route through that, but marketing will play an important part.
TV and internet companies, TV stations, technology companies and ISPs are revolutionising the market, but whoever creates an interesting consumer proposition and gets it communicated quickly has a lot to gain.
TIMELINE
- Oct 2002: Freeview launched
- Mar 2006: Reached 10m sales of digital boxes and digital TVs
- Nov 2007: Launched first TV ad
- Jul 2008: Rebranded digital TV recorders as Freeview+
- Oct 2010: Reached sales of 60m