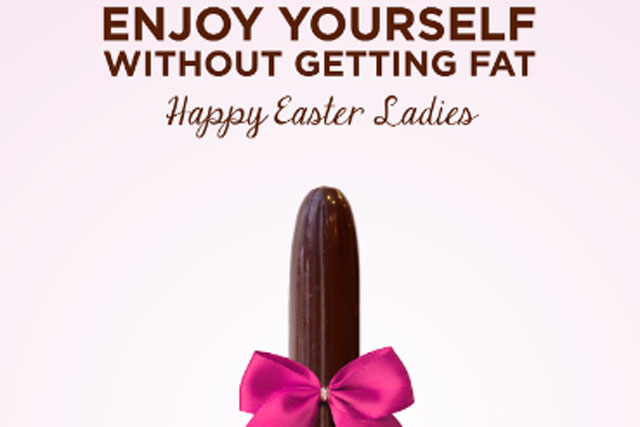 The ad, which in its English version features the text, "Enjoy yourself without getting fat. Happy Easter ladies," promote the French retailer's range of five chocolate sex toys.
It comes months after Mademoiselle Scarlett's Valentine's Day campaign for the brand, featuring images of a dildo and the line "fuck Valentine's Day".
It is running on the Dorcel Store's digital channels and in the French lifestyle press, including the arts and culture magazine Technikart, the football magazine SoFoot, the urban culture publication WAD and the clubbing magazine Infrarouge.
The ads will also appear in points-of-sale locations at Dorcel and Josephine Vannier shops.
The campaign follows ads from Easter 2013, which also featured chocolate sex toys, but these products were not actually created, a spokesman for Mademoiselle Scarlett explained.
This year, the dildos have been created though a partnership with French chocolatier Joséphine Vannier, which produced the toys and is selling them at its Josephine Vannier Chocolate store in Paris. The chocolate is also on sale through Dorcel's website.
Mademoiselle Scarlett has worked with clients including AXA and the Tourism Agency of Corsica.
It describes its client Dorcel as "the unrivalled French specialist in the erotic and porn industry for 35 years".