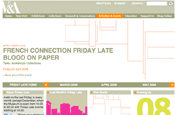 Friday Late is a monthly event covering contemporary fashion, design, music, art and performance. It involves workshops, debates, lectures and live performances.

For the next year it will be known as French Connection Friday Late, as the fashion brand aims to take its branding messages to those who influence the fashion world.

Brokered by Manning Gottlieb OMD's content division Fuse, the deal is also aimed at targeting consumers on a more personal and interactive level than other campaigns.

The agency identified the aim of promoting French Connection as an aspirational and evocative brand as central to the deal.