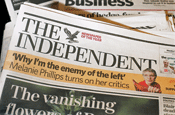 The appointment follows a review called last year (Campaign, 16 November), after the newspaper parted with its incumbent agency Chick Smith Trott.
Simon Kelner, the editor of the Independent, is understood to have been involved in the decision.
The advertising division of Freud, formerly DFGW, will initially devise a new brand strategy for the papers, and then produce advertising campaigns for The Independent and The Independent on Sunday.
Media planning and buying, handled by Walker Media, is unaffected.
Up until now, the bulk of The Independent's advertising strategy has focused on tactical TV campaigns to push its offers and supplements. The latest one, which ran in October, was for a series of guides that aimed to help readers to further their careers.
The company has recently been hit by a number of senior staff changes. Terry Grote, the managing director both papers, took early retirement earlier this month and in December, David Greene, The Independent's circulation and marketing director, and Tristan Davis, the editor of The Independent on Sunday, both left. Davis was later replaced by John Mullin.