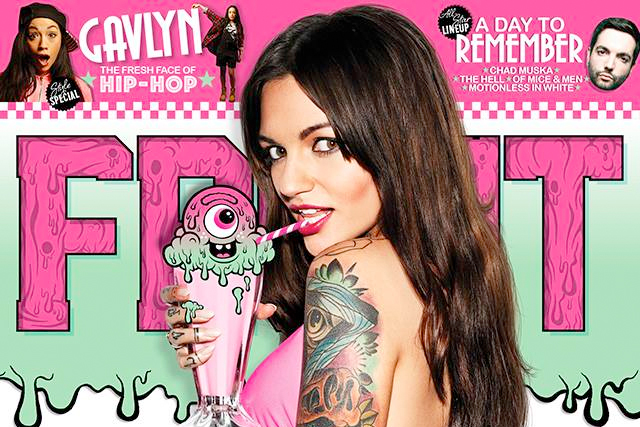 The magazine, which covered girls, entertainment, fashion and sport, was published by Kane. The Kane Corporation is run by British millionaire Dominic McVey, who made millions importing micro-scooters from the US. Front was first published by Cabal Communications in 1998.
Its circulation had fallen in recent years in the declining men's market, from 38,000 copies per issue in the second half of 2010 to 30,000 copies per issue for the six months to December 2012, it's last official audit. In the second half of 2012 its digital editon was averaging 635 downloads per issue.
Front was responsible for stunts including planting an Eric Cantona lookalike into the team photo for Manchester United at a Champions League football game in 2001.
In 2011 its editor Steve Beech told Media Week he aimed to target big brands and corporate advertisers, and to tone-down nude imagery and increase coverage of sport. He said the magazine had always "pushed the boundaries".
A message on Front's Facebook page today read: "Sadly it looks like this is the end for Front. It's been a lot of fun being the best, sexiest magazine in the world, and we couldn't have done it without you lot. Thanks for being so rad, you all rule.
"Now do one last thing for us... go get drunk!"
A Twitter message from the magazine's account simply said: "Stay rad".
Stay rad.

— FRONT Magazine (@frontmag) February 7, 2014
The final issue featured model and body piercing artist Rebecca Fox as a cover girl, and features on the "idiocy" of Kanye West and a history of pop punk.
Rival magazine Loaded continues to be published, having experienced several ownership changes in recent years. It was sold by adult film producer and owner Paul Baxendale-Walker in a management buyout in October 2013, just over a year after he bought it when former publisher Vitality Publishing went into administration.
Loaded is now led by the magazine's former advertising chief, Jason Calder-Mclaren, but does not officially audit its circulations.