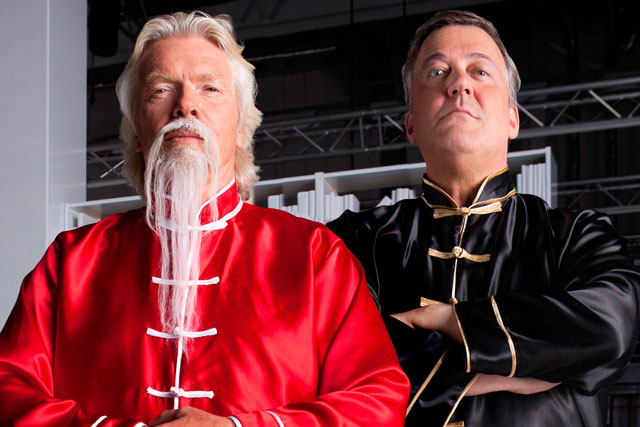 The multimillion-pound campaign, created by BBH, features Fry in Virgin Media's "white world" of previous campaigns.
It consists of two ads, produced by Pulse, aiming to highlight the speed and functions of its TiVo service.
The first ad, which debuts on Facebook tomorrow (14 July) before going on air on ITV that evening, features Fry doing the splits, while Branson whips a remote control from his sleeve and throws it through the air, kung-fu style.
Fry catches its one-handed and uses it to search for kung-fu programmes, to highlight the speed of its intelligent search functionality.
It closes with the strapline, "Everything kung fuey in the blink of an eye".
The second ad in the campaign, which will break in September when the other ad stops running, features Fry yelling to God that he wants to see a dinosaur.
But when it fails to appear, despite rumblings, he turns to his TiVo Wishlist folder instead, to get an array of shows featuring dinosaurs. It has the strapline, "Wish for whatever you like" and will run until October.
The campaign will be supported with online exposure as part of a media plan by Fifty6.
Jeff Dodds, executive director of brand and marketing communications at Virgin Media, said: "Stephen Fry is without a doubt one of the most high-profile and digitally savvy figures of today, making him an ideal candidate to demonstrate Virgin Media's TiVo service."
BBH's team on the ads were creative directors Matt Doman and Ian Heartfield, copywriter Ed Cole and art director Lewis Mooney.
David Tennant was the last celebrity to be enlisted for TiVo's "white world" ads.
Follow Sarah Shearman on Twitter @Shearmans