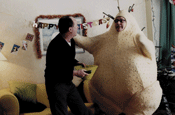 Mother, Miles Calcraft Briginshaw Duffy and Farm have been shortlisted to pitch for the task. The search is being handled by COI Communications.
In a letter to the three agencies, the FSA laid out a brief to produce a campaign similar in tone and approach to the Government's anti drink-driving "Think" campaign.
The Government body wants to warn consumers of the dangers of improper storage, preparation and cooking of foods in an attempt to drive down cases of food poisoning. An above the line campaign is timed to coincide with Christmas and is expected to give instructions on cooking a turkey properly.
The FSA head of marketing, James Brandon, said no decision had yet been made on media, which is currently held by Zenith Optimedia. However, he would not rule out a media review at a later date.
Brandon added that while the umbrella branding pitch does not include briefs for the FSA's food labelling and salt-reduction education campaigns, those elements of the body's advertising would also be reviewed in coming months.
Grey London currently handles the salt-reduction and labelling accounts, following the merger with United London earlier this year.
At the time of the merger, the COI said the account would remain at Grey despite the fact the WPP agency is not on the COI roster.
However, a source at Grey concedes that the agency's lack of roster status meant a review of the account was inevitable.
The FSA's most famous food safety advertising was its 2002 "sausages" TV spot, created by HHCL Red Cell, which warned against the danger of undercooking food on the barbecue with the Three Degrees song "When will I see you again?"
The ad was part of a £20 million food hygiene campaign aimed at reducing food poisoning by 20 per cent over four years.
HHCL was also responsible for the "sid the slug" campaign to warn the public of the dangers of excessive salt consumption.