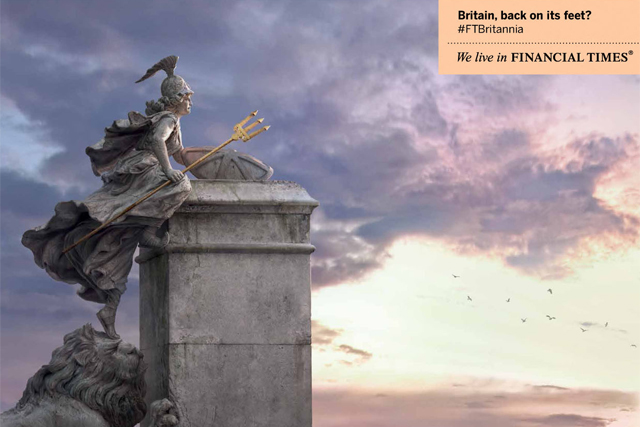 The posters show the figure of Britannia climbing back up onto her plinth, as the FT queries whether recent economic indicators implying an economic turnaround will symbolise long-term growth.
Osborne is expected to say that the UK economy is "turning a corner" later today, citing "tentative signs of a balanced, broad-based and sustainable recovery", while stressing that these are still "early stages" with "plenty of risks" still ahead.
The ad campaign, created by Adam&Eve/DDB, runs across print and digital platforms, with creative appearing on outdoor ads and across London black cabs.
The ads feature the hashtag #FTBritannia to encourage consumers to share their views on Twitter, Facebook and Google+. The comments will be collected, collated and answered by the FT's UK editorial economics team and published in a blog post on ft.com.
Catherine Jacklin, the FT's director of global brand and B2B marketing, said: "Britannia mounting her plinth captures the very essence of the UK's recovering economy.
"Readers come to the FT for an authoritative view on global economics, and by launching this cross-channel campaign, we are tapping into the intelligence and insight of our audience".
Barclaycard's monthly analysis of UK spending claims that spending grew 4.4% year on year in August, showing headline spending growth above 4% for the fourth month in a row and above inflation for the fifth month running.