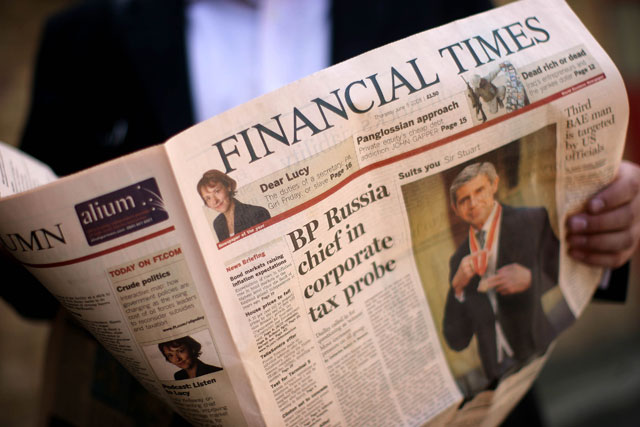 Today (27 July) the FT's parent company Pearson revealed its first-half results for 2012 and highlighted the performance of its digital revenues at the Financial Times.
It said that digital subscriptions to the title – which operates behind a metered paywall – increased in the period by 31% year on year to more than 300,000.
The number of registered users climbed 29% to 4.8 million. Mobile devices now account for 25% of traffic to FT.com, while there are 2.7 million FT web app users.
However, the print circulation of the FT continues to fall. In June, its circulation was 297,225 copies, down more than 50,000 from a year ago, when its circulation was 356,194.
Advertising revenue declined, with growth online and in luxury and personal finance, more than offset by declines in trade and recruitment. Pearson said advertising demand remained volatile.
Overall, the FT Group, which publishes the Financial Times, registered a sales lift of 6% to £216m, while adjusted profits were up 5% to £22m.
Pearson reported a 28% fall in pre-tax profits to £59m.
The group said the fall was the result of three key factors – the sale of FTSE International (which reduced FT Group profits by £10m on the year), structural industry change at Penguin, and a financial hit to its education division.
Follow @johnreynolds10