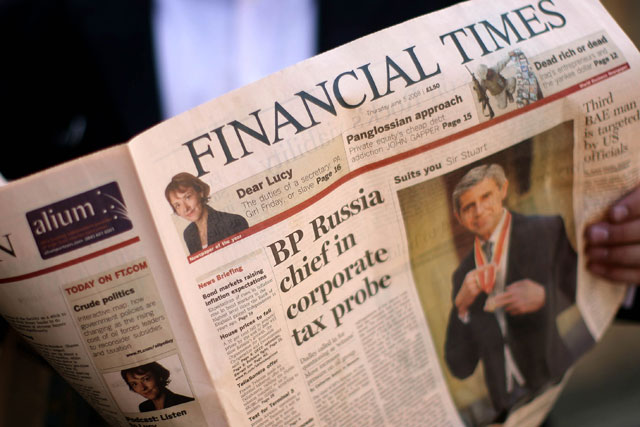 The evolution of the FT Group from a print-led newspaper operation into a predominantly digital and increasingly mobile information service was underlined in its financial figures today.
Digital and services revenues accounted for 55% of FT Group revenues, up from just 31% in 2008. Content revenues, which include print and digital subscriptions, comprised 63% of revenues – compared to 48% in 2008, while advertising accounted for 37% of FT Group revenues, down from 52% in 2008.
Weak advertising
Advertising sales were described as "short-term and generally weak", but the FT claimed to have increased its market share with luxury and financial sectors showing good growth in digital.
The FT's new creative solution, FT Smart Match, which uses semantic profiling to allow advertisers to match their content to relevant FT.com stories in the real-time was another innovation in the year, although no financial figures were split out.
Circulation reaches 126 year high
The FT's total paid circulation grew 8% year on year to 652,000 across print and online, the highest paying readership in its 126-year history. FT.com digital subscriptions grew 31% to 415,000, offsetting nearly 20% falls in its print circulation, now 234,193 (of which 72,251 in the UK).
Total revenues from copy sales and subscriptions were $98 million in 2013, with digital subscribers now representing almost two-thirds of the FT's total paying audience. The group's corporate users increased nearly 60% to more than 260,000 last year.
Mobile almost half of consumption
Mobile is an increasingly important channel for the FT, driving 62% of subscriber consumption, 45% of total traffic and almost a quarter of new digital subscriptions.
The FT's flagship web app now has more than five million users and new FT apps on Google Newsstand and Flipboard have strengthened its mobile offering.
Digital engagement with the FT brand was reported to have been boosted by the new 24-hour news service fastFT and redesigns to mobile apps and improvements to FT.com.
The FT continues to expand its executive education business. FT in Education products, including annotation tool FT Newslines, now used by almost 300 education institutions, including 37 of the world's top 50 business schools.
The Economist profit hits all-time high
Elsewhere, The Economist Group, in which Pearson owns a 50% stake, had a record operating profit after tax, up 3% on 2012. Content revenues accounted for 60% of total revenues (44% in 2008) and digital and services revenues comprised 39% of total revenues (29% in 2010).
Global print and digital circulation at The Economist reached a record high of 1.6 million.
'Difficult transition' for Pearson
For the FT Group's owner Pearson, 2013 proved to be a challenging year, as its education business in North Amercia fell dramatically.

Pearson makes more than three-quarters of its revenue from education, including textbooks and software for teachers and students in schools and higher education, with 60% of total group sales coming from North America. Falls have been attributed to the move away from paper products, US state budget cuts and falling education enrollments as job seekers enter the market earlier.

Overall, Pearson's operating profit was down 21% year-on-year to £736m, on revenues up 2% to £5.28bn. The group's educational business, outside of North America, has also been hit, with profits down 24% to £140m.

John Fallon, chief executive of Pearson, said: "We are in the middle of what we believe will be a short, but difficult, transition – one that through our combined investment and restructuring programs will drive a leaner, more cash generative, faster growing business from 2015.

"We are uniquely positioned to tackle some of the biggest challenges in global education including the transforming power of technology. I am particularly excited about the significant opportunity digital education offers for Pearson and the next generation of learners."