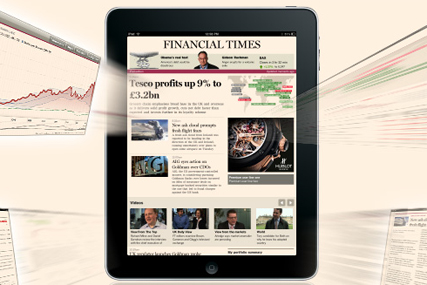 The Financial Times has recorded around 130,000 downloads of its iPad since it was made available in the US around two weeks ago. No figures are yet available for the UK launch of the FT iPad app last week.

Both the FT iPad app and FT iPhone app were free of charge to consumers in the two-week period.

Steve Pinches, lead product development manager of FT.com, said: "The FT iPad has had three times the amount of downloads in the first two weeks than on the FT iPhone add during the same period."

He added: "This is particularly remarkable considering that we launched the iPad app ahead of the international launch, so the overwhelming majority of users who downloaded the FT iPad were from outside the UK."

Unlike other national newspapers, the FT app is free for the first two months, after which it will be charged as part of the FT subscription package, which includes access to the FT website.
However, the FT said it was too early to identify whether the app is luring users to subscribe to the overall FT subscription package, and added: "We don't see this as a newspaper product. It is just another delivery model for the brand."