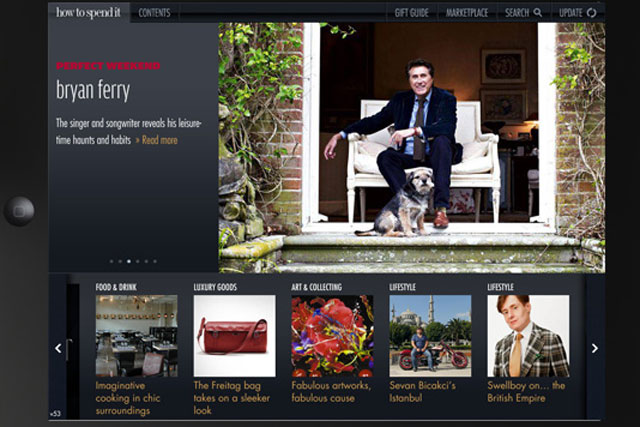 The app will offer consumers daily postings and 60 back-editions of the lifestyle magazine.
The app is advertiser-funded and commercial opportunities for advertisers include a brand hub where advertisers can showcase their brand and products in detail.
Features of the app include daily postings, such as blogs, columns and interviews and access to most magazine features and columns before they appear in print.
It has been launched specifically for the iPad but sources said it could be extended to other tablets.
The FT is running a dual strategy regarding its various brand apps.
Last month, the FT removed its core newspaper app from Apple's store, as it was unwilling to meet Apple's requirements-to retain subscriber data and a 30% cut of subscriptions sold through the App store.
However a number of FT apps, such as its Chinese issue, are available at the Apple store.
Gillian de Bon, How To Spend It editor, said: "When we designed this, our first questions was why adopt a print-styled published edition format when we can organise content logically and allow readers to search their favourite subjects, columns and writers?"
How to Spend It is a weekly magazine published with the Financial Times Weekend Edition. The magazine has been published for the past 16 years and its articles are focused on high-end topics, such as yachts and mansions.
The How to Spend It app can now be downloaded from Apple iTunes store.