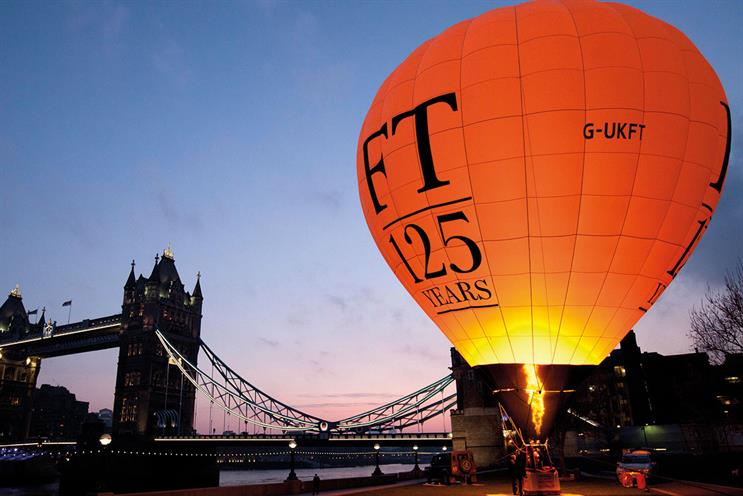 Last week's shock sale of the Financial Times to the Japanese media giant Nikkei ignited questions about the future of the 127-year-old "Pink 'Un" and a wider debate about the importance of our stalwart British media companies.
Among the many quotes favoured by analysts in the aftermath of the sale has been the one-time reassurance from Dame Marjorie Scardino, the former chief executive, that Pearson would sell the title "over my dead body".
For trailblazer Scardino, the first woman to ever lead a FTSE 100 company no less, her steadfast belief in the value of the FT as part of Pearson's education-led portfolio – despite contributing less than 10 per cent to total revenues – was something that came to define her 16 year tenure.
"We are not going to sell the FT, it is one of our greatest brands," she said back in 2003. "We want to invest in the FT, it's one of the biggest brands there is, a worldwide name."
Following her exit in 2013, all bets were off. The well-reported trends in the press sector have only become more prominent since then. Copy sales are falling and print ads are disappearing.
The FT's own print ad revenues have fallen 13 per cent in the past five years, from £85 million to £74 million, at least according to Nielsen data. But this figure does not include digital advertising, which has enjoyed annual double-digit growth during the same period.
In subscriptions, meanwhile, the FT has been a market leader in terms of migrating print readers onto its digital platforms. Having grasped the vital role digital would play in its future, the title became the first major British news brand to start charging for content when it launched a metered paywall in 2007.
Four years later, Pearson took the high-risk strategy of eschewing Apple's Newsstand ecosystem – and, with it, its hold over user data – in favour of building its own bespoke web-based HTML app for tablet and desktop users. By 2013, its 125th year, the FT's digital subscriptions had overtaken print.
The evolution has been striking. Paid circulation now stands at an all-time high of 737,000 despite global print sales falling and a paid newspaper circulation of less than 65,000 in the UK. Digital users, which represented just 24 per cent of subscribers in 2010, now make up almost three-quarters (520,000).
In the process, the news brand's business model has flipped, with it now making more money from its content than advertisers.
It was hard to argue with Pearson's chief executive, John Fallon, last week when he talked about the FT being at an "inflection point". He cited the pace of disruptive change in new technology — in particular, the explosive growth of mobile and social media — and admitted it posed a direct challenge to how the FT produces and sells its journalism.
"What the FT really needed was to be part of an organisation absolutely focused on journalism," he conceded.
The success the FT has had to date in digital is a major part of what made the brand so highly valued. The £844 million tabled by Nikkei in what came down to, by all accounts, a last-gasp bidding war against Axel Springer, represents a staggering multiple of around 43 times its operating income.
Sir Martin Sorrell, chief executive of WPP, is among those to marvel at the "very high price", and stresses Nikkei will have to invest further in both digital and editorial to be make it a price worth paying.
Speaking to Campaign, Sorrell adds: "Nikkei will have to be hands off and have no editorial interference. Group M [WPP's global media buying division] spends about $65 million per annum with the FT and that could be a lot more if it was more flexible and less premium niche."
Should we fear foreign ownership?
But does it matter that British media companies are falling so readily into foreign hands? The sale of a media asset like the FT would have to surmount many more regulatory hurdles in the US or France (or China of course), and there are many who now fear ITV and Channel 4 could well be next, following in the footsteps of Channel 5, The Independent and the FT.
Douglas McCabe, the chief executive of Enders Analysis, believes the business rationale behind the latest deal is sound, calling it a "win-win": a premium price for Pearson, which desires to rationalise and invest more in its core education strategy, and a premium asset for Nikkei.
However, while noting the two companies were already strategically close partners for content and selling initiatives, McCabe also warns that we should be "intuitively wary" of our media brands being acquired by overseas companies.
He adds: "This is not to say that foreign owners cannot be great proprietors and investors or, indeed, that UK owners cannot be terrible proprietors and investors. It is to say that owners of British media, and perhaps news media in particular, should ideally be fully invested in the culture of the UK, which is fiercely independent, irreverent, passionate.
"We expect owners to support and develop their business and also enhance the UK media and creative sector ecosystem. An owner from anywhere can deliver this, but a British owner is more likely to be fully immersed in it, and care about all the outcomes. We have a hugely strong media and creative industry in the UK, but all ecosystems are also fragile."
One executive with first-hand experience of life in a media group under Japanese management is Tracy De Groose, the chief executive of Dentsu Aegis Network UK. She says that being bought by Dentsu three years ago has been a positive experience.
Having been promised investment and the autonomy to run the UK business free from day to day interference, much of De Groose's time is now spent on the acquisition trail. In fact, Dentsu Aegis has been the most active of all the marcoms holding groups in the first six months of 2015, completing a total of 19 acquisitons in various markets around the world.
De Groose says: "Dentsu bought Aegis for a reason and has since empowered our journey and stated ambition. I understand the reservations around foreign ownership, but globalisation is affecting everything and is not something that has to be feared. Nikkei's stated mission to further enhance the FT as a global brand should be applauded."
Many others, of course, are far more protectionist in their outlook. Will Hutton, the former editor in chief of The Observer and now chair of the Big Innovation Centre, was among the first to publicly air his fears about the FT's sale, when he told Newsnight: "It's very bad news… I don't think we care enough in Britain about who owns our companies".
For some, who owns our media, and therefore who, ultimately, controls the lens through which we view and translate the world and ourselves, should not be given away so easily.
'I feel very lucky that foreign owners have a high regard for British journalism'
Others are more sanguine. One media leader with more authority than most to venture into this area is Amol Rajan, editor of The Independent and presenter on local TV station London Live, both owned by Russian Billionaire's Alexander and Evgeny Lebedev.
Rajan notes that those who bemoan foreign ownership often tend to be those not dependent on it. Accepting there can always be good and bad owners, regardless of nationality and industry, he adds: "If it funds quality journalism that has moral force and is a benefit to Britain's democracy, that is a good thing.

"The Lebedevs have put well over £100 million into British jobs and journalism. That's a lot of impact.
"From where I'm sat, I feel very lucky that foreign owners have a high regard for British journalism, especially at a time when the reputation of our industry is in the gutter.

"Lionel Barber has been an outstanding editor of the Financial Times, not least by creating a college of exceptional young talent. Nikkei's investment is as much a vindication of his editorial ambition and strategy as anything else."
One thing is certain, as the FT prepares to head east into the "Land of the Rising Sun", many eyes – from Britain and beyond – will be following its coverage closely.
Read comment: Reporters without borders for a global, mobile FT brand