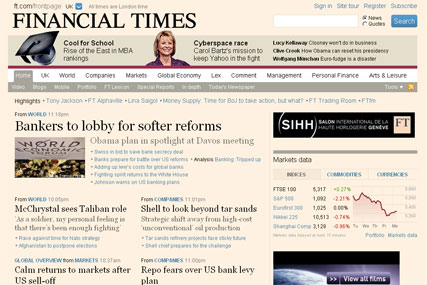 Rob Grimshaw, the managing director of FT.com, said the introduction of day passes would come with new mobile launches later this year.

Speaking to Journalism.co.uk, Grimshaw said he was confident that people would pay for 24-hour access to FT.com.

"It's reasonable to assume there are a lot of people who will quite happily pay that, but aren't willing to commit to one year's subscription in one go," Grimshaw said.

Grimshaw added that the FT would like to consider introducing a micropayments, but said the technology did not yet exist.

This could change later this year with reports that Apple plans to introduce a web version of its iTunes service, which could be used by publishers to charge on a per article basis.

New mobile versions of the FT's mobile app are also on the way. More than 200,000 of these have already been downloaded and a new Blackberry and Android version are planned.

Changes to the FT's charging model, which currently costs between £171 standard and £259 premium a year, comes as pay wall activity on both sides of the Atlantic heightens.

The New York Times last week announced it would move ahead with a metered paid content model in 2011 and News International has appointed a new boss to oversee The Times in London's move to a pay wall, which is expected to begin in the spring.

Gurtej Sandhu senior-vice president of new media at Rupert Murdoch's Star TV, has been appointed director of Times Digital.

Whitwell, editor of Times Online and Hector Arthur, director of digital development, will report to him.

Working out of India and Hong Kong, Sandhu established the digital division for News Corporation's Star TV. He was previously based in the UK and worked at News International and United Business Media.

At the same time, Daniel Finkelstein, former Tory party adviser and the paper's chief leader writer, has been appointed executive editor of digital content.

His elevation has come after the success of the paper's blogging operation, Comment Central.