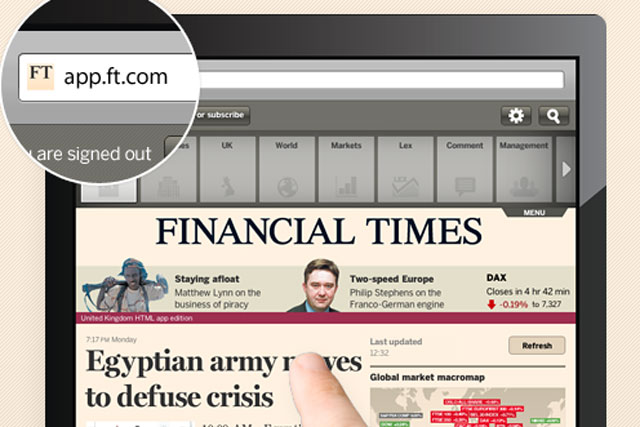 The move is the first of its kind by a major newspaper group and comes after the FT expressed concern about the lack of data disclosed by Apple about the behaviour of users of apps distributed through its stores.
The launch of the web-based app also comes after Apple updated its trading terms to take a 30% cut of subscription transactions.
The new app replicates the FT's existing iPad app, in HTML5, and does not need to be downloaded.
Users access the app directly through their web browser at app.ft.com.
The app has initially been optimised for the iPad and iPhone, but will be adapted across other tablets, such as Android-based devices.
Access is free during the first week, but after this users need to take out a subscription. The FT charges £233.48 for a standard annual subscription and £337.48 for a premium subscription.
John Ridding, chief executive of the Financial Times, said: "This is our best app yet, and it is an important step in our strategy of providing multi-channel access to our global journalism quickly and simply.
"The FT Web App offers our customers flexibility and freedom of choice with access to our global journalism anytime, anywhere, with a single login or subscription.
"In a world of increasingly digital complexity, we want to keep our service simple, easy to use and efficient, to offer our customers the best possible experience of FT journalism."
Benefits of the app, according to the FT, include enhanced speed, automatic updates and a "new" and "improved" design.