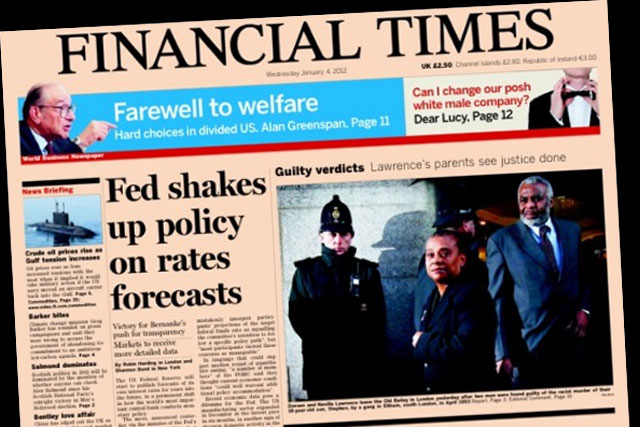 Profits rose despite 'weak' advertising, with revenues driven by a 28% increase in online subscriptions to 267,000, and registered users rising 33% to more than four million.
The FT increased its cover price for the second time in three months in January.
Combined print and digital subscriptions hit 600,000 in 2011, the highest the title has ever achieved, Pearson claims, with digital subscribers overtaking print subscriptions in the US, taking their 'average daily global' audience to 2.2 million, another record for the title.
Readers continued to shift from print to digital platforms, with 19% of traffic coming from mobile. The group expects to generate further revenues in the mobile sector, following the acquisition of app developer Assanka and the development of an app for its luxury title, 'How To Spend It'.
The group warned that profits at the FT would fall in 2012, due to the sale of a 50% stake in FTSE International, and moves to "accelerate the shift from print to digital."
At Pearson's book title Penguin, revenues fell by 1% to £1.045bn, with adjusted profit rising 8% to £111m. Digital book sales rose by 106% and now account for 12% of Penguin's group revenues.
Pearson Group revenue rose 4% from £5.6bn to £5.8bn in 2011, with underlying growth in profits rising 7% to £942m.
Marjorie Scardino, chief executive of Pearson, said: "The external environment provides a testing backdrop for these results, and all our industries face some degree of turbulence. But our strategy and long-term planning for change have helped us to another good year to add to our record of persistent out-performance.
"We believe those qualities, combined with the commitment and innovation of our people, will continue to serve our customers and our shareholders well."
Pearson expects trading to "remain challenging in 2012, in the face of turbulent macroeconomic conditions and rapid structural change in our industries."
Shares in Pearson fell by 1.8% in early trading.