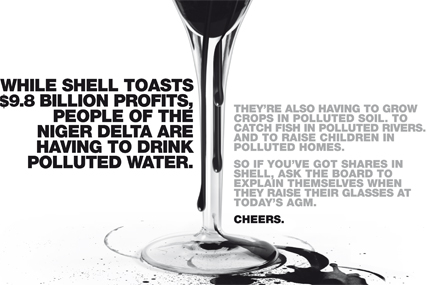 The ad was critical of Shell's activities in Nigeria. The full-page ad featured a glass of champagne which apparently had oil poured into it.

The business title said it pulled the ad for legal reasons. It is thought it had no issues with the ad editorially.
The copy on the ad stated: "While Shell toasts $9.8bn profits, the people of the Niger Delta are having to drink polluted water."

Amnesty International said it reacted with "immense disappointment" at the decision to pull what it deemed a "hard-hitting" ad.

Tim Hancock, Amnesty International UK's campaigns director, said: "The decision by the Financial Times is extremely disappointing.
"We gave them written reassurances that we would take full responsibility for the comments and opinions stated in the advertisements.

"Both the Metro and the Evening Standard had no problems with running the ad."