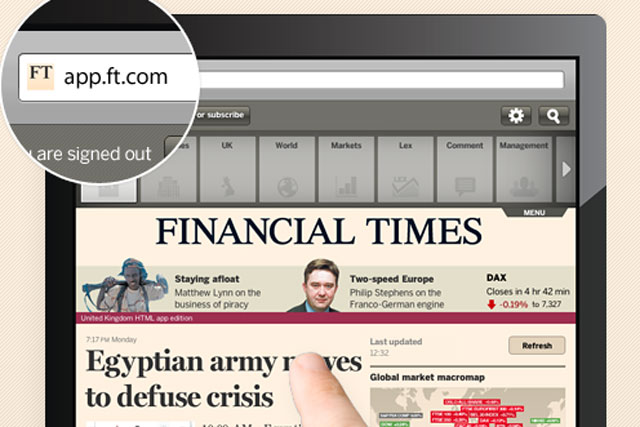 It is understood the FT was unwilling to meet Apple's requirements – to retain subscriber data and a 30% cut of subscriptions sold through the App Store.
The publisher has been encouraging its digital subscribers to switch to the browser-based HTML5 app it launched in June, which gives it the advantage of avoiding paying Apple a cut of subscriptions.
An FT spokesman said: "The FT iPad and iPhone apps will no longer be available to new users through iTunes. We are directing readers to the FT's new web app available at app.ft.com."
However, the spokesman said iTunes would remain an important channel for free advertising-focused apps, such as its forthcoming service for the How To Spend It weekend magazine.
Access to the HTML5 app was free for the first week. After this trial period users must take out a paid subscription – £233.48 for standard annual or £337.48 for premium.
FT claims the web-based app has attracted 550,000 users to date, although this included non-subscribers. The spokesman declined to reveal how many subscribers were using the app.
At the end of July the FT revealed digital subscriptions had risen 34% year on year to almost 230,000 and registered users by 49% to 3.7 million. Mobile devices accounted for 22% of FT.com traffic and more than 15% of new subscriptions.
Rob Grimshaw, the managing director of FT.com, told Marketing this month that "it has not been a problem promoting or getting traffic to the web app at all".
Apple declined to comment.