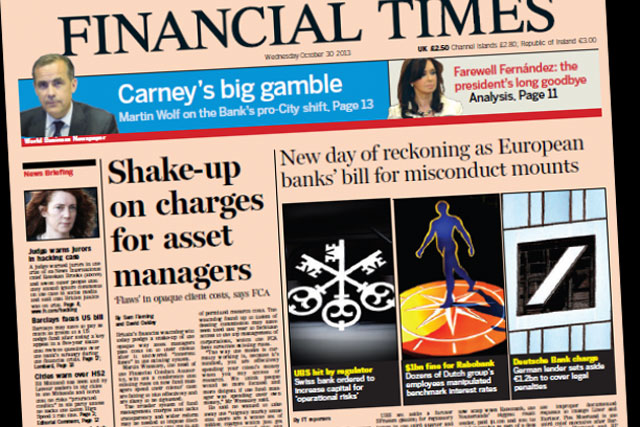 The figures, audited by Deloitte's, include all five print editions (UK, US Europe, Middle East and Asia) and various digital editions.
The FT's overall circulation growth has been fuelled by digital subscriptions, up 24% to almost 387,000 for the first nine months of 2013. Digital ad revenues are also reported to be rising significantly. An FT spokesperson said: "We are seeing growth in digital and luxury advertising, including a 23% increase in mobile and 29% growth in video. HowtoSpendit.com advertising revenues grew 41% year on-year in the nine months to September 2013)."
Along with the figures released in parent Pearson's nine month interim report today, a spokesperson claimed the FT's newspaper circulation has achieved profitability this year for the first time, meaning its newspaper sales have now overtaken the cost of its print production. The FT raised cover prices in January 2012 to £2.50 during weekdays and £3 on Saurday.
In the UK, the FT's average print circulation in September, as audited by the Audit Bureau of Circulations, stood at 76,260. The print circulation has almost halved (-45%) over the last decade, from 139,000 in September 2003. No further information is currently released about FT's UK-specific digital editions.
One global FT is coming
The digital growth comes as editor Lionel Barber prepares a redesign and restructure for the FT newsbrand in 2014. The newspaper will launch a single edition, global print product before the summer.The new FT, according to the editor, promises to be "a better paper to suit the times".
Barber said in a memo earlier this month: "We are now ready to take the next steps in our successful 'digital first' strategy. This is an exciting but also challenging opportunity for all journalists at the Financial Times. It means changes in work practices, a further shift of resources to ft.com and a significant reshaping of the newspaper."
The changes will impact the structure of the FT's newsroom, with Barber calling time on "the 1970s-style newspaper publishing process", where incremental changes are made to multiple editions through the night.
He said: "In future, our print product will derive from the web offering – not vice versa. The new FT will be produced by a small print-focused team working alongside a larger integrated web/day production team."
As part of the shift, Barber expects the paper's journalists to move away from reactive news gathering to value-added "news in context". News editors will need to do more pre-planning and intelligent commissioning for print and online.
Barber said: "We have transformed our business model, successfully charging for content and building a global subscription business. Last year, our online subscriptions surpassed our print circulation for the first time. Today, we have more than 100,000 more digital subscriptions than print sales.
"This is no time to stand still. The competitive pressures on our business to adapt to an environment where we are increasingly being read on the desktop, smart phone and tablet – remain as strong as ever."
Follow @DurraniMix