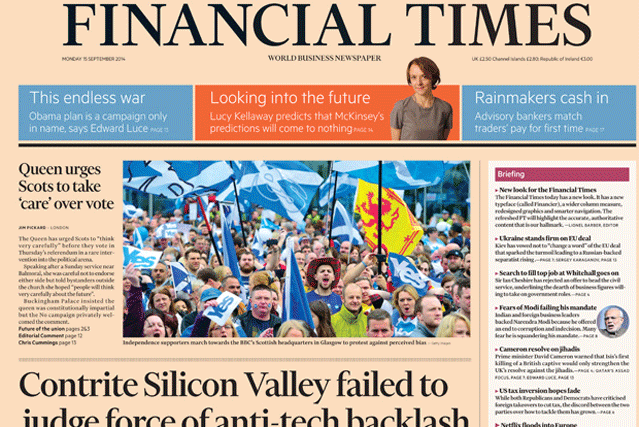 The FT's new-look incorporates a new custom typeface, called 'Financier', new colour graphics, a new-look front page and an index that lists the companies, sectors and people mentioned in its Companies section.
The design also includes a spotlight on the people behind UK corporate news in a Friday people column, a new trends feature to guide readers to emerging themes, and a new Monday sports column where Matthew Engel and Jurek Martin will cover the business and management of sport.
As part of the move, senior journalist Hugh Carnegy returns from FT's Paris office to the new role of executive newspaper editor, overseeing print production to run alongside the FT's 24-hour, multimedia publishing schedule.
The revamp comes exactly one year after Lionel Barber, editor of the Financial Times, published a memo to staff detailing the next steps in a "digital first" strategy.
Described as "an exciting but also challenging opportunity for all journalists at the FT", the memo highlighted a number of changes in work practices, including a shift of resources to ft.com and plans to ditch its regional editions in favour of single global product.
Commenting on this week's new look, Barber said: "The refreshed newspaper is an agenda-setting slice of the best of the FT. It complements FT.com and other channels, providing the definitive global perspective on what readers need to know each day.
"The new FT has visual impact and is easy to navigate, highlighting trends and providing original news, insight, analysis and context."

The refresh will be accompanied by a global brand campaign, created by Adam&EveDDB, around the strapline, "It is what you know". The ads promises to reflect how times have changed and the true advantages propelling this new world are intelligence, ideas and knowledge.
John Ridding, chief executive of the FT, said: "This investment underscores our confidence in the unique and lasting value of print, which is profitable on its own before advertising.
"It is an important part of our multi-channel offering for many readers, who increasingly consume FT journalism in multiple formats. This refresh provides our audience more value and choice."