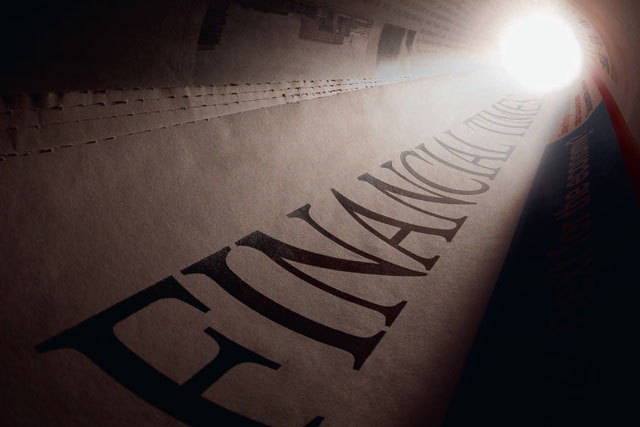 The campaign by adam&eveDDB features an image of a rolled-up Financial Times newspaper with the tagline, "Still guiding the way for global business".

In the UK, the campaign will appear in newspapers, magazines and websites as well as on digital outdoor screens in London.

John Ridding, chief executive of the Financial Times, told Campaign: "A hundred and twenty-five years is a pretty big deal. It's an important milestone that proves the enduring qualities of the Financial Times at a time when businesses are being created and destroyed at a breathtaking speed. Capitalism's creative disruption is on fast forward – and we're seeing casualties in many industries, not least media."

Over the course of the year, 'FT 125' and 'FT tablet app' shaped hot air balloons will fly over global financial hubs, starting in London today.

Ridding and FT editor Lionel Barber will also host anniversary receptions in London and New York, and will ring the closing bell at the New York Stock Exchange on 30 April. The FT's headquarters in London have been lit pink to commemorate the milestone, with The Empire State Building similarly turning pink on 1 May.

Founded in 1888, with the first edition of the newspaper printed on 13 February, the FT is currently in the process of restructuring its business into a digital operation, which is increasingly reaching readers across the world through mobile platforms such as smartphones and tablets.

Ridding said: "The FT is a specialist publication, but it's sometimes been difficult to achieve the sort of scale we'd like because of cost.

"With mobile, that constraint falls away. For a global news organisation, mobile is a complete game changer. Mobile represents a quarter of our digital traffic and that will continue to grow. And [growth] is fastest in the 25- to 34-year-old demographic.
"Traditionally, we've mainly reached an older demographic – which is fine. But now we're also bringing in readers at an earlier stage. We don't have to wait until they reach the board room."

Read more comments from FT chief executive John Ridding in Campaign tomorrow.

Follow @DurraniMix