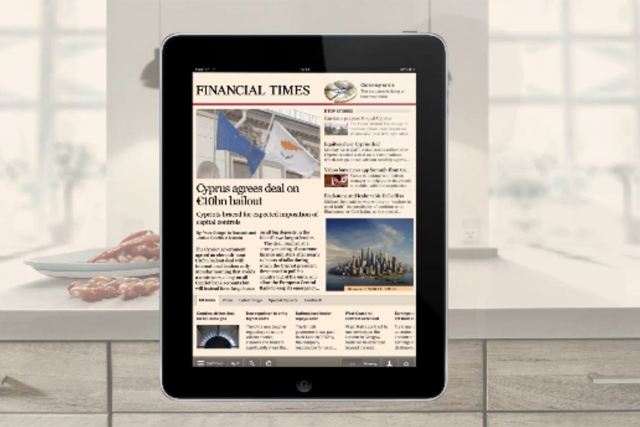 The new app offers readers the choice between a static morning edition mirroring that day's newspaper or a dynamically updating version, with developments throughout the day.
Users can switch between the two to suit their reading habits in the new app, which has been given a cleaner look and is easier to use. Readers get a new-look article that makes it easier to swipe between stories and which also now includes video and slideshows.
Advertisers also get further options with the new-look app, as ads are now available on all article page,s and full page ads between article and section pages.
Mobile is an increasingly important channel for the FT and drives around a third of FT.com traffic and 15% of digital subscriptions.
Robert Shrimsley, FT.com managing editor, said the decision to give readers an app that in part replicates the FT newspaper morning edition was taken because readers said that even though they liked the app, they wished they could see what had been in that morning's newspaper.
Other key features of the redesign are a 'My FT' personalised section, including clippings, recommended reads based on browsing history, and a blog hub, a new index page linking to all FT blogs
The app is available on iPad at launch and will be rolled out to the FT's iPhone, Windows8 and Android apps in the coming months.
While existing iPad users will not have to do anything to see the upgrade, which comes into effect globally today, the FT is offering a 33% discount on a standard annual subscription for new users during the week of launch, which works out at £3.39 per week, £176.28 for the year.
Rob Shilston, FT Labs director, added: "We've kept innovating to take advantage of the improvements in HTML5 capabilities, incorporating many technological features to support new devices. We're continuing to push the bounds of HTML5, benefiting from the better tools and coding patterns that are emerging."
Follow @gordonmacmillan