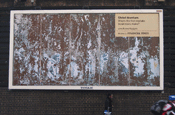 The sites, which launch on Monday, will be stripped back to the bare boards, with only a small copy panel posing the question: "Global downturn. What's the first mistake businesses make?"

The ads, created by DDB, are intended to provoke debate on the importance of advertising during a global economic crisis, and drive consumers to a microsite, www.ft.com/budgets, which contains case studies on the benefits of continuing to advertise.

Frances Brindle, the global marketing director of the Financial Times, said: "This new creative could not be more topical and supports the argument that cutting back on advertising spend in recessionary or turbulent times hands a significant advantage to your competitors. There is considerable evidence to suggest that companies that continue to invest in advertising in tough times emerge stronger than those that don't."