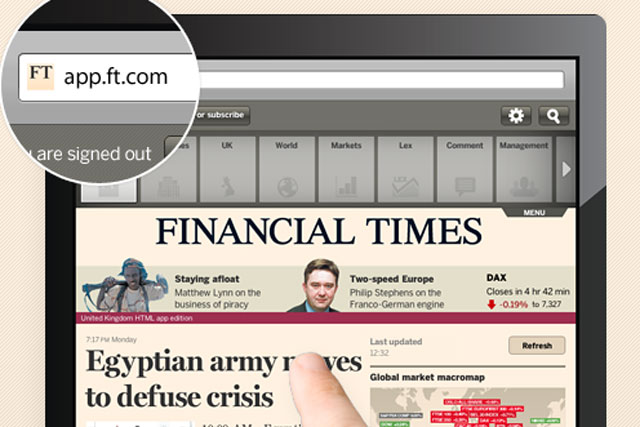 The total includes both subscribers, who pay for full access to FT.com across all digital platforms, and registered users, who can access up to eight articles a month on the site for free. As soon as the app is downloaded people have to register or subscribe to use it.
A spokeswoman did not provide a figure for how many of the app's users were subscribers.
However, she disclosed that FT.com subscription numbers now stand at 285,475, while it has 4.5 million registered users.
Mobile is central to the publisher's digital strategy, and it claims to receive 12% of subscriptions and 19% of traffic to FT.com through mobile.
The FT also said that in the past six months, it had seen a "sharp rise" in mobile users, with increases of 52% on smartphones and 49% on tablets.
Initially, the FT launched its web-based app for FT.com app alongside its IOS app, but in June last year, it pulled it entirely from Apple's App Store, in what is understood to be a dispute between the publisher and Apple over the 30% charge on subscriptions sold through the app store, and the retention of data.
While the publisher has been a major proponent of web-based apps, it has platform-specifics apps, including its iPad app for its luxury magazine, How to Spend It, and its Android app which launched in December last year.
The Android app has had 160,000 downloads, according to the FT spokeswoman.
It also announced that the How to Spend It iPad app has received 100,000 downloads since it launched last September, but has not disclosed how many downloads the Android app has had.
In January, the FT acquired Assanka, the London-based developer of its web and Android app, and its blogging platforms, for an undisclosed sum.
Follow Sarah Shearman on Twitter @Shearmans