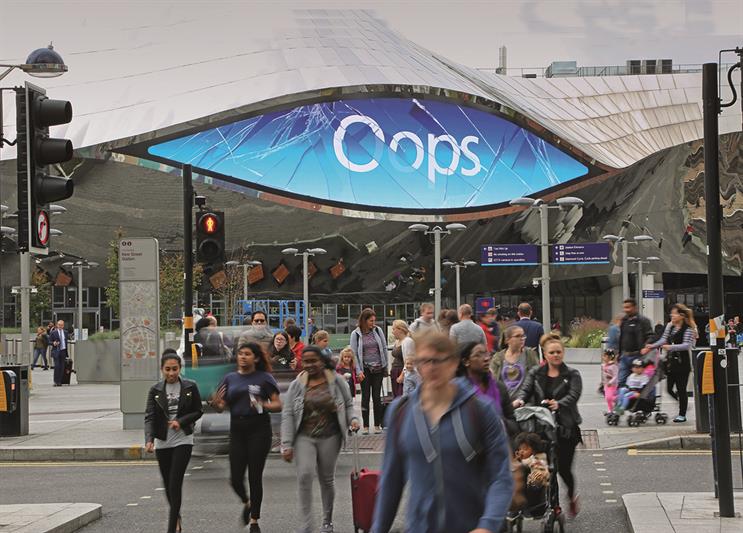 Digital out-of-home (DOOH) is a rapidly growing medium, with global media revenues in the sector growing 13% to reach $13.4bn in 2017, according to media research firm PQ Media. As the medium matures, the key question has become not whether to use it, but how best to use it.
Over the past five years, Ocean has partnered neuroscience research firm Neuro-Insight UK to develop a better under­standing of DOOH's impact on consumers.
There's a need for hard data – and neuroscience is the ideal way to gather it, using steady-state topography to track memory encoding and emotional peaks.
For its latest study, Ocean set out to explore how full-motion video can deliver brand-building qualities by appropriating learnings from TV and its role in amplifying online content. The results were significant – demonstrating that full-motion DOOH campaigns have an impact 2.5 times greater than content on static displays, delivering a powerful emotional experience comparable to that of TV advertising.
Telling a story with full motion
The study exposed respondents to out-of-home sites featuring both static and full-motion content, before measuring their brain response to a filmed version of the real-life journey they had undertaken. Because our brains process information holistically, content has to be seen in context; Neuro-Insight UK tracked participants' peaks in emotional response, how positive that response was, and the number of brand impacts encoded into memory.
In previous studies, Neuro-Insight UK has found that the impact of advertising across out-of-home and TV is driven by memory encoding, peaks of emotional intensity and positivity – but, most importantly, it is the number of peaks of response that is crucial for delivering elevated levels of brand effectiveness. The most effective ads feature more peaks of memory response when branding is present, and deliver a strong emotional nudge to viewers.
"What's important is some sort of evolving narrative, because our brains tend to respond to new information," says Heather Andrew, chief executive of Neuro-Insight UK.
While both static and full-motion content delivered high levels of positive emotional response, Neuro-Insight UK found that full-motion creative delivered more branded peaks of memory encoding.
Combining these two metrics reveals that full-motion DOOH has the ability to really influence consumers, delivering brand effectiveness in spades.
"Digital out-of-home delivers multiple impacts and a strong emotional response: two key components that contribute to driving real-world sales"
Helen Haines, head of marketing and events, Ocean

"Digital out-of-home works in a similar way to television advertising," says Ocean's head of marketing and events, Helen Haines. "It delivers multiple impacts and a strong emotional response: two key components that contribute to driving real-world sales."
The study suggests that full-motion DOOH can extend the reach of a TV campaign, effectively contributing to positive brand-building outside the home.
Bringing DOOH online
Online advertising tends to be more about targeted activation than brand-building – consumers tend to engage with it for short amounts of time, making it a challenge to deliver multiple peaks of response. However, full-motion content that plays well online is similar to that used in the DOOH medium – showcasing movement and colour, and not relying on sound to carry the message.
Ocean wanted to explore how consumers responded to a piece of shortform online content played on a full-motion DOOH display.
Neuro-Insight UK's research revealed that the same content delivered stronger levels of response in an out-of-home context than it did online – building on previous findings showing that respondents' exposure to a DOOH ad has a positive priming effect on online advertising.
Taken together, this suggests that a multi-platform campaign using full-motion DOOH can both amplify the effect of online content and play a vital role in brand-building through delivering multiple peaks of memory response and emotional intensity.
"The work that we did for Ocean was innovative in terms of methodology and outputs, and clearly demonstrates the changing nature of the relationship between different media," says Andrew.
"Because DOOH combines characteristics of several established media – the scale of out-of-home, the flexibility of online and the dynamic creative of TV – it sits at a unique point in the media ecosystem" Heather Andrew, chief executive, Neuro-Insight UK
"In an increasingly online media world, full-motion digital sites can play a unique role in amplifying the impact of an online campaign," she adds.
By delivering multiple peaks of response and emotional intensity, full-motion DOOH can perform both a brand-building role and amplify the effectiveness of content in other media – making it an essential asset in an integrated media plan.