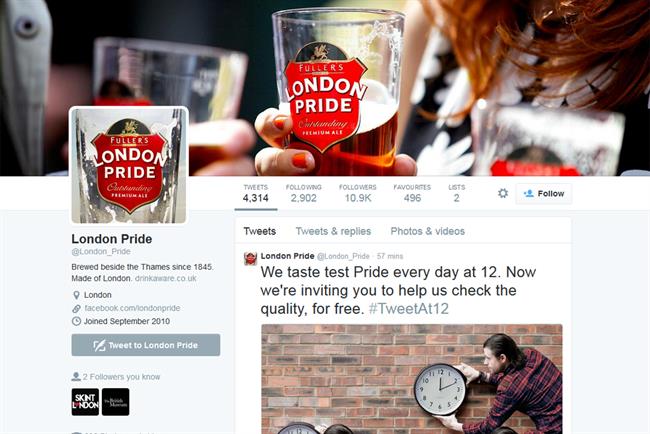 The campaign, created by The Corner, will encourage Londoners to tweet @London_Pride at midday using the hashtag #TweetAt12.
Those that do will receive a code for a free pint can be redeemed at Fuller's pubs around the capital.
The campaign will run for two weeks and will be promoted with some outdoor activity and in press including Time Out, Metro and The Evening Standard.
Social activity will take place across Twitter, Facebook and Instagram.
Fuller's already hosts a daily taste test for staff at midday, every day at its Chiswick brewery.
Jane Jones, the marketing director at Fuller's, said: "We wanted to deliver an act of generosity to Londoners, expressing the lengths we go to in ensuring a pint of London Pride is of the highest possible quality."
Neil Simpson, founding partner at The Corner, said: "London Pride is a quintessential part of our capital's heritage, and Fuller's is the last remaining family brewer in the city.
"Following the success of last year's #EmptyPint campaign, which saw codes redeemed at close to 100 pubs across London, we wanted to find a creative way to involve Londoners in one of Fuller's oldest traditions."
This article was first published on www.campaignlive.co.uk
---
Recommended