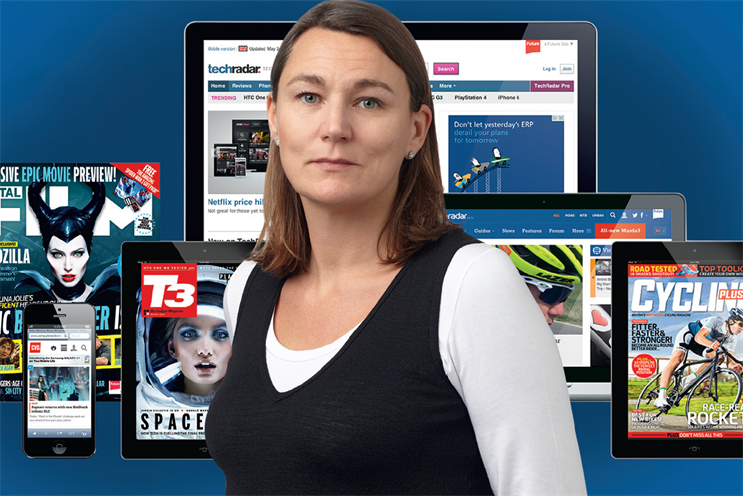 "This is just empirical fact – and possibly no surprise," she said. "Future's business model isn't working hard enough."
Yet that model is much admired. In 2013, Future was named Consumer Digital Publisher of the Year for the third year in a row by the Association of Online Publishers, and for the second consecutive year by the PPA.
But, barely a month into the job, Byng-Maddick has announced a 45-day consultation that begins this week and puts all UK staff at risk of redundancy. Her words left no doubt as to the gravity of the situation: "We need to change, and fast… We're doing too much, with too little resource."

Future has posted disappointing financial results since the mid-noughties, and issued a profit warning in March that caused shares to lose a third of their value. Pre-tax profit was £3.3 million in 2013, excluding exceptional items – less than half of that in 2005 – despite radical staff cuts over the past few years.

The publisher has done so much right. It is a genuine digital innovator, launched in 1985 by Chris Anderson, who went on to be the curator of TED. It moved into digital early, developing its own app-creation software, and continues to lead the way: Future reported that digital accounted for more than 50 per cent of ad revenues last year; the digital edition of Total Film recorded the highest circulation of any digital magazine in the UK in the first half of 2013; and TechRadar attracts around 20 million unique visitors a month.

Meanwhile, Future has steadily slashed its global headcount from 1,400 in 2006 to 850 today and, in March, reduced it in the US by a third.

But what made Byng-Maddick's e-mail stand out among the many such announcements in a tough climate for magazines was her clear diagnosis of the problem.

One reason for Future's difficulties, she suggested, is the very move into digital that defines it as a beacon among competitors. "As print revenues have fallen away, we have – perfectly reasonably – placed bets on new revenue streams, new activities, new areas of focus," she wrote. "In retrospect, this strategy hasn't played to our strengths."

That investment in digital has not been cheap for Future, and it has led to a fragmented organisation with less appeal to advertisers. However, Byng-Maddick plans to fix this by creating a single content and marketing team, and appointing a single commercial director.

Like so many other publishers, Future has shouted about unique visitors, tablet users and social media followers, but these numbers do not necessarily translate into income. It is perhaps a sobering realisation for the publishing industry that digital migration – touted by many as the saviour of magazines – might not pay off, even for the big guns such as Future.

Byng-Maddick joined Future six months ago as its chief financial officer and has a promising background as the former interim chief executive of Trader Media Group, an organisation that has successfully replaced print with digital. Future is hoping that, with a financial brain at the helm, its fortunes will recover.
Of some consolation to recipients of Byng-Maddick's e-mail will be her acknowledgement of Future's historical strength: that it has moved forward faster than most other publishers. If its overhaul is successful, the result will be smaller operations doing less but doing it well, and – crucially – looking at the right numbers.