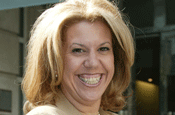 The figure is being seen as a strong endorsement of the recovery plan set in motion by Stevie Spring, after her arrival as chief executive last year.

However, she warned of some significant challenges ahead, particularly if the US slips into recession.

""The US represents a big growth opportunity for us," she said. "But the state of the dollar isn't good at the moment. It means our biggest challenges concern things over which we have no control."

The company's return from red to black is the culmination of a radical turnaround programme implemented by Spring involving cutbacks, selling off unprofitable subsidiaries and dealing with the consequences of Future's disastrous acquisition of 38 magazines from Highbury House in 2005.

However, she has dampened speculation that Future might follow its return to profit with a major acquisition that would allow it to compete with the likes of Emap.

"We'll make some more 'tuck-in' acquisitions as we did in Australia during the summer," she said. "But we don't want to move into general consumer magazines because the economics are very different."