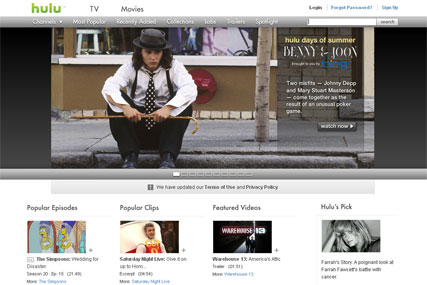 Speaking at the IEA's Future of Broadcasting event in central London, Johannes Larcher, SVP, international, Hulu, said the UK is "very ready for a product like Hulu."
He said: "We are talking to everyone. UK is our number one priority in terms of international expansion. We are very interested in the UK. We hope in the very near future we will have some plans to reveal for the UK."
He added that the demise of Project Kangaroo, the planned VoD service from ITV, BBC Worldwide and Channel 4, which was blocked from launch by the Competition Commission this year, has "opened up some opportunities we would like to exploit".
It is understood Hulu's launch plans have been affected by a disagreement with potential content suppliers, such as the BBC and ITV, over ad sales. It is thought Hulu wants to control ad sales around content on its platform, while the broadcasters are thought to want to retain full or partial control.
Larcher would not comment on its launch activities, but insisted that, based on conversations with advertisers and agencies, there is significant demand for Hulu.
"There is some demand and, from our conversations with media buyers, much value in a site that aggregates that," he added.
Larcher was tight-lipped on a launch date and the make-up of its UK service. However he did reveal the service would be different to its current US offering. "We will localise our model so we are not perceived as a US company," he said.