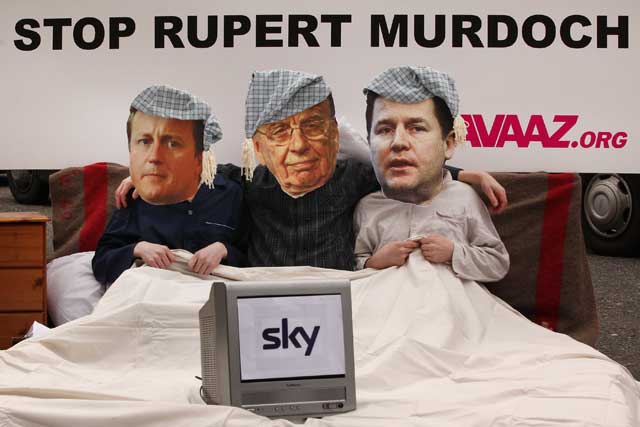 It is becoming clearer by the day that Britain's political classes - not just left but right and centre - have pretty much concluded that the Murdoch era in this country is now over. Of course, you could point out that the whims of our elected representatives don't matter a jot until they become law.
In theory, members of the political classes are but humble public servants without executive powers - and the occasional mood of intoxicated hysteria engendered by the Leveson inquiry within the Whitehall hothouse clearly isn't representative of feelings in the country as a whole.
The mood of Parliament (even when given the enthusiastic backing of almost every section of the non-Murdoch press) does not now, nor should it ever, override or supersede due legal process. A jury or juries should decide on who has broken the law at News Corp.
But in practice, especially in this instance, where bona fides count for more than in any normal business, mood matters. Ofcom, for instance, is now being goaded into amplifying the partial verdict of a Parliamentary committee, and the desire in some quarters is that it will formally declare that News Corp is not a fit and proper shareholder in a broadcast company.
Alternatively, Ofcom could choose to go that extra mile and attempt to withdraw BSkyB's broadcasting licence altogether.
Clearly, judge or jury be damned, this could be an era-defining legal sanction. To resist the sorts of political pressures it's now being subject to will take independent-mindedness and strength of character within the senior echelons at Ofcom - and it has previously been accused of deficiencies in those departments.
It's ironic that an investigation sparked by concerns over working practices at Murdoch's most old-fashioned UK media asset (News of the World) could result in the break-up of the one that most represents the future (Sky) - not just of the Murdoch empire but the UK media sector as a whole.
From a media business perspective, Murdoch's operations will be remembered for introducing pay-TV to this country; and for not merely saving The Times from oblivion but also building it into one of Britain's most reliably authoritative and quality news outlets.
Yet Sky is now the battleground. Since its launch more than 20 years ago, and especially across the last decade, while all sorts of visionaries have been spouting palpable nonsense about how the digital media landscape is going to evolve in some ill-defined future, BSkyB has been quietly getting on with making all sorts of interesting stuff actually happen.
The Sky+ remote could even be described as important a symbol of our media age as the Apple iPhone.
1. On 30 April, with the House of Commons' Culture, Media and Sport Committee preparing to publish its report into the News International phone-hacking scandal on the 1st May, one of the committee's members, the Labour MP Tom Watson (a long-term focus for anti-Murdoch sentiment), formally called for the report to conclude that Murdoch was "not a fit person to exercise the stewardship of a major international company". This amendment was opposed by the committee's Conservative members but was passed with the help of its sole Liberal Democrat.
2. This conclusion, which was arguably outside of the report's remit, coincided with Ofcom moving its probe into a new evidence-gathering phase.
3. With rather bittersweet timing, the "fit and proper" furore coincided with the publication of BSkyB interims for the nine months to the end of March 2012. Here at least was unambiguously good news - profits rose 27 per cent year on year to £899 million on revenues of £5.08 billion. Its total customer base is now 10.55 million and its average revenues per user were up £9 year on year to £546.
4. The BSkyB share price rose above £7 last week, partly as a reflection of continuing good performance - but, more tellingly, according to some analysts, as a result of speculation that News Corp may be forced to sell its 39 per cent stake. Other analysts, however, argued that the uncertainty was actually holding back the share price. Meanwhile, with comic inevitability, News Corp's share price rose slightly in the US due to speculation that the company might decide to sell The Sun and focus more on Sky.
WHAT IT MEANS FOR ...
BSKYB (AND ADVERTISERS)
- Some observers think it is utterly shameful that one of Britain's most innovative and successful media companies has been drawn into the spiteful world of posture politics.
- But for advertisers, the brutal question now is whether it could prosper without News Corp's backing and strategic input. John Davidson, the head of trading at Starcom MediaVest Group, says that the answer has to be yes. He explains: "News Corp investment and drive have undoubtedly contributed to Sky's much-heralded success. But it would be difficult and entirely wrong to suggest Sky's success is solely down to the company's involvement. Probably the real truth is that it has nearly always had a high-calibre team with some of the bravest, most forceful leaders who have defined the market or stayed ahead of the competition in broadcast rights, technology development, advertising, marketing and consumer service provision over the last 20 years. A change in ownership is unlikely to worry most advertisers."
THE UK MEDIA MARKETPLACE
- At least one quality newspaper had to restrict the reader comment options on its media pages last week after losing control of the anti-Murdoch hate storm it had helped to create. And one media committee member, the Conservative MP Louise Mensch, was subjected to despicably vile abuse on Twitter.
- Social media has never been more anti-social. And to what end? Rival media owners might care to reflect that damage to BSkyB (or, indeed, The Times) damages the market as a whole. The sector has entered a shockingly self-abusive phase.