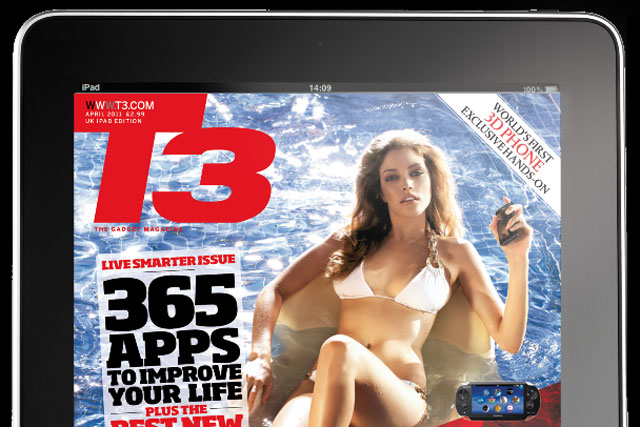 The monthly iPad edition, which contains various interactive features and materially different content from the standard print-replica digital edition, has delivered 14,223 average monthly sales for the period July to December 2011. The figures were audited by Bright Graeme Murray.

Audited print and standard print-replica digital edition circulations will be released via ABC later today and Future claims that – combined with these enhanced edition figures – T3 will deliver its highest ever circulation.
Launched in October 2010, the T3 interactive iPad edition has been the UK's most successful lifestyle app, the highest-grossing app on Apple's Newsstand and the ninth-highest grossing iPad app on the entire App Astore last year, beating off competition from The Sunday Times and Empire.

Meanwhile Future has announced digital edition sales in excess of 150,000 each month across its portfolio of brands.

Since the October launch of Apple's Newsstand, described as an iTunes for magazines, Future has generated sales of over 430,000 digital magazines over 40% of which are subscriptions.
Nial Ferguson, group publishing director of T3 and Technology Group, said: "T3 has led the way in the tablet space and rightly so, given our demanding audience of early adopters. T3 is the biggest-selling iPad magazine, and recently became the first fully-interactive magazine to launch into the Android Marketplace.
"As proven pioneers in producing fully-interactive tablet content, I'm pleased that we are also pioneers in delivering a truly transparent, audited account of our interactive sales.

"Once the ABC figures are published later today, it will become clear that overall, T3 has delivered its highest-ever circulation."

Mark Wood, CEO of Future, added that sales of tablets look set "to grow exponentially" over the next few years.