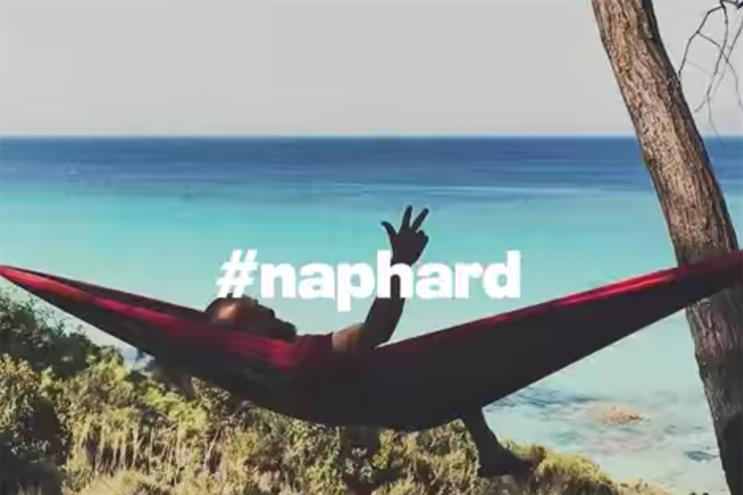 Tom Corcoran, Wieden & Kennedy London
Nike's "Joga Bonito" campaign made me feel things I didn't know a brand could make me feel. The sheer optimism and joy of every execution perfectly captured what playing football as a kid is all about. The Ronaldinho child film stands out in particular. Maybe it's the Latin American whistle, maybe it's Eric Cantona calling you his friend, whatever it is, there's something about this piece of work that releases endorphins every time you watch it. Bonito
Next is "The great schlep" with Sarah Silverman. It's one of the first pieces of work that made me think strategy can be cool. Targeting grandkids to persuade their grandparents to do something is just genius
What inspires me? These days I usually turn to the Ross Kemp poster hanging above my bed for inspiration. When one human can go from being the worst actor of their generation to being the greatest journalist of the next they're doing something pretty special. He's a walking reminder that anything is possible. Long live the king.
Tom Bender, Wieden & Kennedy London
I am not a very smart boy. I am sorry if my list of "commercial creativity" is not correct.
John Webster's "Smash" ads were well nice. It's a brilliant positioning and there is humour baked into the craft of the script, the robots and their voices.
I imagine so many people have stolen this idea since they came out, now I spend my nights hunting for these thieves getting more and more bitter and probably hypocritical #fouryorkshiremen.
Nike "Fuelband", (I think that was done by an ad agency). It was just so ambitious to actually make. I think everyone has pitched ideas like this but they do it knowing there is about a 1% chance a client will even think about buying it, good meeting ideas. To think you can make a real thing as an advert person is pretty cool. I bought one before I was in advertising and now I think back and i'm like "aaahh you got me, nice one cheeky".
What inspires me? I don't leave the office very often and sometimes the pressure makes me feel like I am drowning, lol? So I try to find inspiration in the short moments not spent stressing out at my desk, walking to the toilet, looking at my arm, standing up.
I also like to look at pictures of Christen and Bertie from before, they are inspirational. I was inspired the other day to come up with quite a nice idea, a fan with a flag on the mesh so when you turn it on, you see it waving around so you know it's on, like if you are looking into a greenhouse or something. FlagFan, mine. Up the Palace.
Selma Ahmed and Genevieve de Rohan, Adam & Eve/DDB
Red Bull "Culture clash". It's not an ad, but we think it's an amazing reference of a brand behaving as an actual part of culture. Bringing people together in the most popoff way, putting power directly into the hands of the people. Months of build up – getting people hyped and engaged digitally before making an impact in real life. Unashamedly branded, entertainment.
"Did you mean Mailchimp" campaign.A super-smart and funny way of infiltrating different parts of culture – food, music, fashion, beauty. Each one in its own unique and entertaining way.
What inspires us? At the moment, Instagram. We spend hours just sending each other shit we love. Whatever entertains us in our real lives, serves as inspiration. If we're into it, we want to make stuff like it.
Drink Beer "Brewtroleum". It's impossible not to love an idea that makes drinking beer a noble exercise. And all the executions spin so beautifully off the one inspired mad thought.
REI "Opt outside". Opting out of the biggest shopping spree in human history to make a point is pretty amazing. A revolutionary act with huge impact.
What inspires us? We try to remind ourselves that everyone in advertising visits the same sites, follows the same accounts, gets the same links, and that we are all occupying a similar bubble. The antidote is to try and broaden our stimulation as much as possible. In the places we go for inspiration, but just as importantly by collaborating with people who bring their own diverse and amazing wealth of ideas. It also helps drawing from people who don't give a shit about advertising.
Levi's "Flat Eric". The ad that got me into ads. I absolutely loved the little head-banging, finger tapping yellow puppet that changed pop culture. It's effortless and joyful to watch. And I think one of the first advertising icons to claim internet presence. (I'm still kicking myself for selling my Flat Eric toy in a car boot some years back.)
Hamlet Cigars "Photo booth". Whenever I think back to adverts that have really caught my attention, I can almost guarantee that they have probably made me laugh. And this one is funny. Laugh out loud funny. A simple idea, but one that's perfectly performed and executed. I could watch this commercial time and time again.
What inspires me? Creative inspiration comes from many places. I have a magpie attitude to it. Always on the lookout. I tend to spend a lot of time in my own head observing people.
Every couple of months I travel back up north, to see my parents. That's a magical two hours on the train where I can spend time in my own thoughts – scribbling down fragments of other passenger's funny conversations, listening to music, observing nature. It's is the main reason I go home so often. (Sorry Mum, sorry Dad).