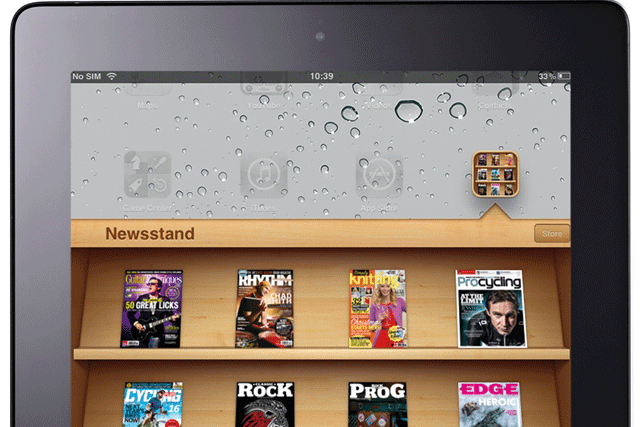 Future made a large number of titles available at the launch of Newsstand, Apple's digital shop for magazine and newspaper content, including T3 and Total Film, while Dennis had a smaller range of Men's Fitness and Health & Fitness, followed by Evo.
Newsstand was introduced in Apple's iOS5 update last Wednesday (12 October) offering publishers improved signposting and letting iPad and iPhone users keep better track of their magazine apps. Newsstand also automatically downloads new issues for subscribers.
Mark Wood, Future UK chief executive, said the company was giving away back issues on Newsstand and so was not charging for all content, but had made sales including subscriptions worth "hundreds of thousands of pounds".
Sales over the week were greater than Future has normally sold in a month, he said, declining to give a precise number as the company was in a close period ahead of announcing results next month.
In August, Future disclosed its iPad revenues had passed the £2m-per-year mark.
In addition, around 70% of people subscribing were agreeing to Apple sharing their data – including name, email address, postcode – with Future. In the absence of users agreeing to share data, all Future knows about them is which country they are buying the app in.
The UK accounted for most container downloads – refering to the software wrap for an individual magazine or newspaper title, rather than the number of issues of that title downloaded - accounting for two out of the three million, while the US and Germany were also well-represented.
"We are reaching a global marketplace," Wood said.
For Dennis, the UK accounted for about 50% of a total of 1.1 million downloads across Men's Fitness, Health & Fitness and Evo, according to Martin Belson, commercial and retail director.
Belson declined to reveal the amount of revenue Dennis had made, but disclosed that subscription revenues were equivalent to 37% of single-copy revenues.
He believes that because Newsstand's introduction allows iPhone users to access iPad app content in the right format and because the breadth of territories downloads are being made from has widened, many users are getting the content on their iPhones.
Publishers are not currently able to get a breakdown for downloads by device.
Follow Daniel Farey-Jones on Twitter @danfareyjones